Our Website Uses Cookies
We and the third parties that provide content, functionality, or business services on our website may use cookies to collect information about your browsing activities in order to provide you with more relevant content and promotional materials, on and off the website, and help us understand your interests and improve the website.
For more information, please contact us or consult our Privacy Notice.
Your binder contains too many pages, the maximum is 40.
We are unable to add this page to your binder, please try again later.
This page has been added to your binder.
#CovLatinx Spotlight Series: Mónica Ramírez Almadani
September 21, 2018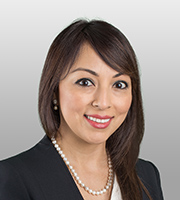 Mónica Ramírez Almadani practices in Covington's White Collar Defense and Investigations practice group. She advises and represents clients in sensitive, high-stakes internal investigations, government enforcement matters, and commercial litigation. Ms. Almadani has significant experience managing complex and sensitive legal and policy issues, as well as supervising federal and state criminal and civil investigations and litigation.
How has your background influenced your work as a lawyer, either at the California Department of Justice or here at Covington?
I am Mexican American and grew up in a working-class, Latino immigrant community in Los Angeles. From a young age, I knew that I wanted to see the world beyond the four corners of my neighborhood and to give back to my community in some meaningful way.
While my goals and dreams were clear to me, I lacked the guidance of a mentor and had to work hard to pave a path forward, never quite sure of what the next adventure would bring or how to deal with the unexpected twists and turns. My parents did not go to college, and no one I knew who had attended my inner-city high school had ever stepped foot on an Ivy League campus, much less gone on to attend law school. Over time, I learned to adapt to an entirely new society, one very unfamiliar to me, yet I always cherished my culture and background and sought ways to bring together my two very different worlds.
This is the reason I started my legal career as an immigrants' rights lawyer with the ACLU. My experience working on high impact cases affecting immigrants across the country now underpins most of my pro bono work at Covington, including my significant involvement in our DACA litigation. My experience has also inspired me to be a mentor to Latino law students, college students, and even high school students from similar backgrounds. I am so proud to be a Latina Covington attorney and to serve as Co-Chair of the Hispanic Affinity Group on the West Coast; Covington is a place that has embraced me and my diverse background, both personally and professionally.