Our Website Uses Cookies
We and the third parties that provide content, functionality, or business services on our website may use cookies to collect information about your browsing activities in order to provide you with more relevant content and promotional materials, on and off the website, and help us understand your interests and improve the website.
For more information, please contact us or consult our Privacy Notice.
Your binder contains too many pages, the maximum is 40.
We are unable to add this page to your binder, please try again later.
This page has been added to your binder.
#CovHasPride Spotlight Series: Josh Picker
June 29, 2017
Josh Picker is a litigation associate in the firm's New York office where he focuses on international litigation and white collar matters. Prior to joining the firm in 2013, Josh served as a law clerk to the Honorable Katherine B. Forrest of the United States District Court for the Southern District of New York and is a former aide to Sen. Hillary Rodham Clinton (D-NY).
Josh is a member of the firm's Diversity Committee and maintains an active pro bono practice. He was a member of the Covington team that assisted the ACLU LGBT Rights Project in evaluating legal strategies to challenge regulations promulgated by the DoD and each military service that prevented the enlistment, re-enlistment, and retention of transgender individuals.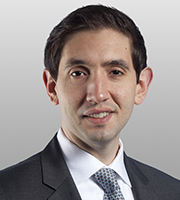 In June 2016, the Pentagon decided to end the ban preventing transgender people from being able to serve openly in the U.S. military. What were some of the biggest challenges in this case and how did your background help overcome these challenges?
Our work with the ACLU to fight the ban on transgender service members allowed me to work on a landmark civil rights issue for the LGBT+ community. One of the most interesting challenges was the need to learn about two areas—military regulations and the issues facing the transgender community—about which I had little prior background. I was lucky to work alongside a diverse team of dedicated Covington lawyers, including those with prior military and administrative law experience who were expert in those issues and glad to share their knowledge. For my part, I brought litigation writing and advocacy skills I learned in my daily practice to a new and exciting context. We were thrilled when the Secretary of Defense decided to reverse the longstanding and discriminatory regulations that we had fought against.