Our Website Uses Cookies
We and the third parties that provide content, functionality, or business services on our website may use cookies to collect information about your browsing activities in order to provide you with more relevant content and promotional materials, on and off the website, and help us understand your interests and improve the website.
For more information, please contact us or consult our Privacy Notice.
Your binder contains too many pages, the maximum is 40.
We are unable to add this page to your binder, please try again later.
This page has been added to your binder.
#CovHasPride Spotlight Series: Ginny Scholtes
June 6, 2017
Ginny Scholtes is an associate in the firm's Life Sciences Industry Group. Resident in San Francisco, Ginny focuses her practice on technology licensing and research, development and commercialization collaboration transactions, and other corporate matters. Ginny recently organized a group of Covington attorneys to attend the National Center for Lesbian Rights 40th Anniversary Celebration and looks forward to continuing to proudly support NCLR's efforts in the movement for LGBT+ equality. She is also a member of BALIF, a San Francisco bay area LGBT+ bar association.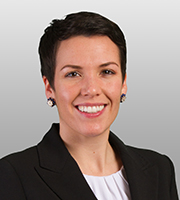 Earlier this year, you attended the Lesbians Who Tech + Allies Summit in San Francisco. How do you see the tech world advancing LGBT+ rights going forward?
Based on my experience with the many LGBT+ leaders of the tech world at the Summit, I think that tech companies will continue to become more involved with funding organizations that advance LGBT+ rights and lobbying for policies that protect LGBT+ individuals. Tech also has a profound influence on our culture, and I see the tech world making a conscious effort to become more inclusive and attuned to the issues LGBT+ individuals face. I believe that effort has pressured and will continue to pressure other sectors to follow suit.