Our Website Uses Cookies
We and the third parties that provide content, functionality, or business services on our website may use cookies to collect information about your browsing activities in order to provide you with more relevant content and promotional materials, on and off the website, and help us understand your interests and improve the website.
For more information, please contact us or consult our Privacy Notice.
Your binder contains too many pages, the maximum is 40.
We are unable to add this page to your binder, please try again later.
This page has been added to your binder.
Covington Sponsors Hispanic Bar Equal Justice Awards Reception
November 6, 2015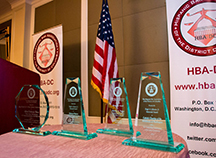 As in past years, Covington sponsored the Hispanic Bar Association of DC's (HBA-DC) Equal Justice Awards Reception. Covington attorneys Jessica Arco, José Arvelo, Tony López, Kassandra Maldonado, Jaclyn Martínez Resly, Alexia Romero, and Clovis Treviño attended the event, which honored individuals and organizations that have made exceptional contributions to the DC-metropolitan Hispanic community in the areas of equality, cultural respect, social justice, and/or the legal profession. Close to 300 DC-area judges, attorneys, policy makers, and law students attended. The honorees were Alfred Baltazar Baca, former Sr. Trial Attorney at the U.S. Department of Justice's Office of Special Counsel for Immigration-Related Unfair Employment Practices; Mónica Palacio, Director of the D.C. Office of Human Rights; Catholic Charities of the Archdiocese of Washington; and Marina A. Torres, Assistant U.S. Attorney for the District of Columbia.
Covington is proud to have been a sponsor of this year's event and looks forward to continuing its support of HBA-DC and its mission, which includes the advancement of Latinos in the legal profession and the promotion of equal justice and opportunity for all Latinos. José Arvelo serves on HBA-DC's Board of Directors.