Your binder contains too many pages, the maximum is 40.
We are unable to add this page to your binder, please try again later.
This page has been added to your binder.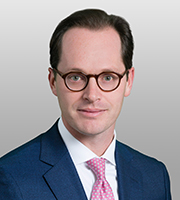 Roger Zakheim practices in the firm's Public Policy and Government Affairs practice group, where he serves as co-chair, as well as the CFIUS and Government Contracts practice groups. Mr. Zakheim provides advisory and advocacy support to clients facing policy and regulatory challenges in the aerospace, defense and national security sector.
Before joining the firm, Mr. Zakheim was General Counsel and Deputy Staff Director of the U.S. House Armed Services Committee. In this role, Mr. Zakheim managed the passage of the annual National Defense Authorization Act (NDAA). The NDAA is the annual defense policy bill which authorizes the Defense Department's $600 billion budget.
Mr. Zakheim's previous experience includes serving as Deputy Assistant Secretary of Defense, where he managed the department's policies and programs related to the Iraq and Afghanistan coalition affairs.
Mr. Zakheim frequently speaks and writes on national security and defense issues. His views have appeared in the Wall Street Journal, New York Times, Politico, National Public Radio, Fox News, CNN, BBC, The Weekly Standard, National Review, among other media outlets.
Defense News called Mr. Zakheim one of the "100 Most Influential People in U.S. Defense," noting that he is widely "regarded as one of the top GOP young guns." Foreign Policy magazine recently named him one of the "Top 50 Republicans in GOP Foreign Policy."
Advisory counsel to multiple aerospace and defense companies facing policy and regulatory challenges in the aerospace, defense and national security sector.
Advised a major U.S. defense company in advocacy efforts before Congress in support of a major weapon acquisition system valued at $50 billion.
Advised GLOBALFOUNDRIES, a subsidiary of Mubadala Development Company, in securing CFIUS and FOCI approval its acquisition of the IBM Microelectronics Division, valued at more than $1 billion.
Provided strategic advice and advocacy support before the Congress to a prime U.S. subsidiary of a non-U.S. defense contractor on matters involving ground combat vehicles.
Advised a non-U.S. defense company on its legislative and executive branch strategy in its bid competition for a major U.S. Air Force weapons acquisition program.
Memberships and Affiliations
Reagan National Defense Forum, Executive Committee Member
Member of the Board of Directors and Senior Fellow, National Defense Industrial Association
Member of the Board of Trustees, United Through Reading
U.S. House Armed Services Committee, General Counsel and Deputy Staff Director (2011-2013)
Romney for President, Co-Chair Defense Working Group; Lead, Defense Transition Team (2012)
U.S. House Armed Services Committee, Republican General Counsel (2009-2010)
Department of Defense, Office of the Secretary of Defense, Deputy Assistant Secretary of Defense (2008-2009)
U.S. House Armed Services Committee, Counsel (2005-2008)
Legal 500 US, Government Relations (2017)
Defense News, "100 Most Influential People in U.S. Defense" (2013)
The Jewish Week, "36 Under 36" (2013)
National Law Journal, Hill Hot List (2012)
Foreign Policy Magazine, "Top 50 Republicans in GOP Foreign Policy" (2012)
Roll Call, Defense: Five Hill Aides to Know (2012)
National Journal, The Hill People (2011)