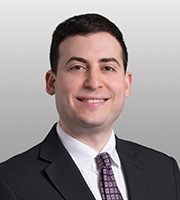 David Zionts is a Washington-based litigator. His practice focuses on appellate litigation, as well as questions of international law and other transnational legal issues that arise in both U.S. and international tribunals.
Mr. Zionts has extensive experience representing clients in complex, high-stakes appeals in federal and state appellate courts. He has authored numerous briefs in the U.S. Supreme Court on a wide range of issues, including administrative law, constitutional law, class actions, health care, the False Claims Act, and ERISA.
Drawing on his experience at the State Department and expertise in public international law, Mr. Zionts also represents both foreign sovereign and private clients on international legal matters. In addition to his international arbitration practice, Mr. Zionts has litigated transnational legal disputes in U.S. courts concerning the Alien Tort Statute, the Anti-Terrorism Act, and foreign expropriations of valuable trademarks.
Before joining the firm, he was a law clerk to Justice Stephen G. Breyer of the U.S. Supreme Court, and to Judge Merrick B. Garland of the U.S. Court of Appeals for the D.C. Circuit.