Our Website Uses Cookies
We and the third parties that provide content, functionality, or business services on our website may use cookies to collect information about your browsing activities in order to provide you with more relevant content and promotional materials, on and off the website, and help us understand your interests and improve the website.
For more information, please contact us or consult our Privacy Notice.
Your binder contains too many pages, the maximum is 40.
We are unable to add this page to your binder, please try again later.
This page has been added to your binder.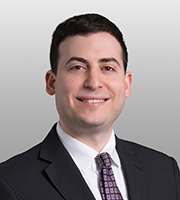 David Zionts is a Washington-based litigator. His practice focuses on appellate litigation, as well as questions of international law and other transnational legal issues that arise in both U.S. and international tribunals.
Mr. Zionts has extensive experience representing clients in complex, high-stakes appeals in federal and state appellate courts. He has authored numerous briefs in the U.S. Supreme Court on a wide range of issues, including administrative law, constitutional law, class actions, health care, the False Claims Act, and ERISA.
Drawing on his experience at the State Department and expertise in public international law, Mr. Zionts also represents both foreign sovereign and private clients on international legal matters. In addition to his international arbitration practice, Mr. Zionts has litigated transnational legal disputes in U.S. courts concerning the Alien Tort Statute, the Anti-Terrorism Act, and foreign expropriations of valuable trademarks.
Before joining the firm, he was a law clerk to Justice Stephen G. Breyer of the U.S. Supreme Court, and to Judge Merrick B. Garland of the U.S. Court of Appeals for the D.C. Circuit.
Successfully represented Fifth Third Bancorp in the Supreme Court, which vacated an adverse decision against the bank and adopted requirements for plaintiffs attempting to sue fiduciaries of Employee Stock Ownership Plans under ERISA.
Successfully represented the American Bankers Association in emergency challenge to Volcker Rule provision of Dodd-Frank Act brought in federal district court and D.C. Circuit.
Representing Bacardi in litigation in U.S. district court concerning rights to the HAVANA CLUB trademark.
Representing the Ministry of Foreign Affairs of Ukraine on public international law matters, including an arbitration against the Russian Federation under the U.N. Convention on the Law of the Sea.
Representing at the Supreme Court individuals who were detained in harsh conditions after 9/11 without individualized suspicion of involvement in terrorism.
Won a significant victory for a class of Central American asylum-seekers in family detention enjoining the Department of Homeland Security's policy of denying release for reasons of deterrence.
Memberships and Affiliations
Edward Coke Appellate Inn of Court
U.S. Department of State, Special Advisor to the Legal Adviser (2011-2012)
Education
Harvard Law School, J.D., 2008
magna cum laude
Fay Diploma
Sears Prize
Harvard Law Review, Articles Chair
Columbia University, B.A., 2005
summa cum laude
Phi Beta Kappa
Judicial Clerkship
Hon. Stephen G. Breyer, Supreme Court of the United States, 2010 - 2011
Hon. Merrick B. Garland, U.S. Court of Appeals, District of Columbia Circuit, 2008 - 2009