Ryan H. Weinstein
Special Counsel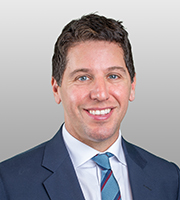 A former federal prosecutor, Ryan Weinstein represents clients in a wide range of high-stakes civil and criminal disputes, including complex commercial litigation, intellectual property matters, securities litigation, corporate control contests, white-collar criminal defense, internal investigations, and SEC enforcement actions.
Prior to joining the firm, Mr. Weinstein served as an Assistant United States Attorney in the Central District of California, where he prosecuted and tried dozens of criminal cases, briefed and argued numerous appeals before the Ninth Circuit, and led state and federal agencies in investigating a variety of criminal offenses, including money laundering, bank fraud, tax fraud and evasion, mail and wire fraud, immigration fraud, drug trafficking, and government procurement fraud.
Prior to joining the United States Attorney's Office, Mr. Weinstein advised Fortune 100 companies on business strategy as a management consultant.