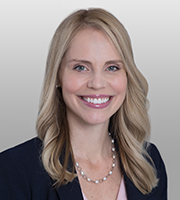 Rae Woods is an experienced litigator and former federal prosecutor with an extensive background in white collar, corruption, fraud, and complex disputes involving the federal government. She represents companies and individuals in high-stakes civil litigation, white collar criminal and regulatory matters, and sensitive internal investigations.
An accomplished trial lawyer, Ms. Woods has led several high-profile white collar investigations and tried more than 30 cases to verdict. She has practiced in federal courts across the country and handled domestic and international cases involving fraud, bribery, extortion, conflicts of interest, campaign-finance violations, racketeering, money laundering, obstruction of justice, and other allegations.
Prior to joining Covington, Ms. Woods served as Associate Deputy Attorney General at the U.S. Department of Justice, where she developed strategic plans for criminal justice reform and provided counsel to the Attorney General and Deputy Attorney General on significant law enforcement issues. She also served for nearly seven years as a federal prosecutor in the Criminal Division's Public Integrity Section, where she investigated and prosecuted white collar crime on a national level.
Ms. Woods is a member of the Bar of California. District of Columbia bar application pending; supervised by principals of the firm.