Allison M. Whelan
Associate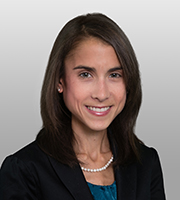 Allison Whelan is an associate in the firm's Food, Drug, and Device Practice Group. She works with health care, pharmaceutical, medical device, and food clients on a wide range of complex regulatory and compliance matters.

Ms. Whelan advises pharmaceutical companies on regulatory strategies for clinical stage development and regulatory approval, promotional materials, and healthcare fraud and abuse risks. She also advises companies on the domestic and international development, approval, and promotion of medical countermeasures, including access to investigational products during public health emergencies. On the compliance front, Ms. Whelan assists companies with the development and implementation of health care compliance policies and procedures, and provides FDA regulatory and health care compliance strategies during litigation, internal investigations, mergers and acquisitions, and public offerings.
Recently, during a secondment with a specialty biopharmaceutical company's in-house legal team, Ms. Whelan provided valuable counsel related to the company's core focus areas, which include research, development, and manufacture of medical countermeasures. Further, she advised extensively on the company's compliance program and policies related to external communications with domestic and international government entities.
Ms. Whelan is associate co-chair of Covington's Food, Drug, and Device Rapid Response team during the COVID-19 pandemic. In this role, she provides ongoing legal and strategic advice to companies developing medical countermeasures to address COVID-19, and counsels pharmaceutical companies otherwise impacted by the public health emergency.