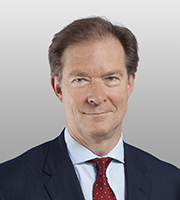 Bert Wells is a partner in the insurance coverage and litigation practices of Covington & Burling LLP. He began representing commercial policyholders in connection with complex insurance recovery matters in 1995, and regularly represents policyholders, including Fortune 100 and 500 companies, in a wide range of insurance coverage matters. He has assisted policyholders in recovering more than $500 million in insurance coverage. He advises policyholders on assessing and maximizing the value of claims, developing and executing insurance recovery strategies, negotiating settlements, and resolving large claims through litigation, arbitration and mediation.
Mr. Wells's experience encompasses first-party coverage claims, such as for property damage and business interruption losses (including, most recently, such claims arising from Superstorm Sandy) and for losses arising from credit risks, as well as third-party coverage claims arising from alleged liability for underlying matters such as environmental, toxic tort, securities, fiduciary, fidelity, cyber-risk, directors and officers, and errors and omissions claims.
Mr. Wells regularly advises policyholders in connection with policy renewal negotiations, including negotiating modifications to standard policy wording to conform the coverage to policyholders' specific risk profiles. He also advises on the assessment and structuring of insurance assets and underlying liabilities in connection with corporate transactions.
Mr. Wells holds a J.D. from the Yale Law School, a D.Phil. (Ph.D.) in mathematics from Oxford University (where he was a Marshall Scholar), and B.S. and M.S. degrees from the California Institute of Technology (Caltech).
Mr. Wells periodically advises on matters relating to intellectual property and information technology. He was a co-editor of the two-volume treatise E-Commerce Law & Business (Aspen 2003).