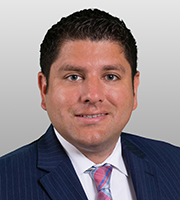 Daniel Valencia is a litigator who represents a wide range of clients in high stakes, cross-border intellectual property and trade disputes. His experience ranges from pre-litigation due-diligence through discovery, trial, appeal, and remedy enforcement.
Mr. Valencia has developed significant experience in Section 337 proceedings before the U.S. International Trade Commission (ITC), having previously worked at the agency as a trial attorney, appellate counsel, and advisor to the Commissioners. He draws upon his familiarity with all levels of the ITC's agency decision-making to offer practical and strategic insight to clients appearing at the ITC as both complainants and respondents. Mr. Valencia also works with Customs and Border Protection regarding enforcement of ITC remedial orders.
Mr. Valencia also counsels clients regarding acquisition, licensing, and defense of IP rights. Prior to beginning his legal career as a patent examiner at the U.S. Patent and Trademark Office in the field of fiber optics and waveguides, Mr. Valencia worked in the semiconductor industry.