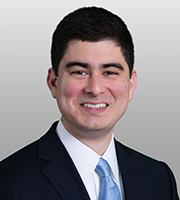 Luis Urbina advises clients on complying with state and federal financial statutes, regulations, and agency guidance. He counsels banks, lenders, and technology companies on de novo bank chartering, formal applications for mergers and acquisitions, and compliance with consumer protection laws including the Dodd-Frank Wall Street Reform and Consumer Protection Act, the Bank Holding Company Act (BHCA), the Change in Bank Control Act (CIBCA), the Truth in Lending Act (TILA), and state money transmitter laws.
Mr. Urbina monitors developments regarding the Consumer Financial Protection Bureau (CFPB) and regarding the deployment of fintech services, including those dependent on blockchain and other distributed ledger technologies.
Mr. Urbina represents global manufacturers and consumer products companies in reporting product defects or hazards to the Consumer Product Safety Commission (CPSC) and to the National Highway Traffic Safety Administration (NHTSA) and in complying with subsequent recalls and monitoring. He regularly advises clients on the applicability of CPSC and NHTSA requirements and on the extent of the jurisdiction of those agencies.