Our Website Uses Cookies
We and the third parties that provide content, functionality, or business services on our website may use cookies to collect information about your browsing activities in order to provide you with more relevant content and promotional materials, on and off the website, and help us understand your interests and improve the website.
For more information, please contact us or consult our Privacy Notice.
Your binder contains too many pages, the maximum is 40.
We are unable to add this page to your binder, please try again later.
This page has been added to your binder.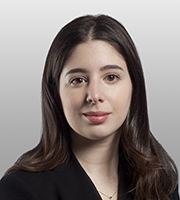 Laura Torre has represented clients in a broad range of corporate transactions, including mergers and acquisitions, private equity transactions, joint-ventures, financings and securities offerings. Additionally, Laura has significant experience in representing Latin American clients in various cross-border transactions.
Represented Tencent in its $8.6 billion acquisition of a majority interest in Supercell.
Advised Grupo P.I. Mabe, the leading producer of hygienic products in Mexico, on its sale to Ontex Group NV, a publicly listed company based in Belgium.
Represented underwriters in a $121.6 million "bought deal" follow-on public offering by Synergy Pharmaceuticals Inc.
Represented underwriters in the registered public offering of $115,000,000 aggregate principal amount of 2.125% Senior Convertible Notes of Repligen Corporation.
Assisted counsel to Linzor Capital Partners, a Latin American private equity fund, in the merger of the retail operations of its portfolio company Moda en Distribución, S.A.P.I. de C.V., into Devlyn Holdings, S. de R.L. de C.V., to create Mexico's largest eyewear retailer.
Represented the underwriters in the $76.8 million initial public offering by Cidara Therapeutics, Inc.
Assisted victim of domestic violence in filing VAWA petition to secure her stay in the United States.
Aided multiple domestic violence victims in their U-visa filings to secure their stay in the United States with their families and children.
Aided domestic violence victim in obtaining an order of protection with non-profit organization Her Justice.
Memberships and Affiliations
New York State Bar Association
The American Lawyer, "Dealmakers of the Year" (2020)
Her Justice presented Ms. Torre with the "John K. Geiger Award." She was honored for her work on several Her Justice pro bono matters in which she has assisted domestic violence survivors in filing VAWA and U-visa immigration petitions (2019).
Member of team awarded 2016 M&A Atlas Mexico Deal of the Year.
Practices
Education
Yale Law School, J.D., 2014
Yale Journal of Law & Feminism, Business Editor
Columbia University, B.A., 2011