Your binder contains too many pages, the maximum is 40.
We are unable to add this page to your binder, please try again later.
This page has been added to your binder.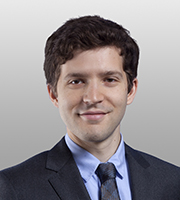 Ezra Steinhardt advises on European privacy, technology, and trade laws and policy.
Mr. Steinhardt provides clients, including major technology and life sciences companies, NGOs and trade consortia, with compliance advice, and strategic representation in internal and regulatory investigations and public affairs outreach.
Mr. Steinhardt has experience advising on a diverse range of digital technology and health issues, including, among others, wearables, cloud computing, online advertising, mobile health, cybersecurity, web content filtering, telecommunications, the Internet of Things, pseudonymization, doping in sports, and law enforcement access to data.

Mr. Steinhardt also advises on trade related issues including EU economic sanctions, export controls, and other international trade and treaty matters.
Working with clients to respond to investigations by privacy, trade and consumer protection authorities.
Advising firms on implementation of the European General Data Protection Regulation.
Advising on updates to privacy policies and terms of use, cookie requirements, privacy settings, app features, cloud computing services, data breaches, and cross-border data transfers.
Advising pharmaceutical companies on the treatment of clinical health data, new e-health services and devices, and the implementation of binding corporate rules.
Advising on law reforms, including the European Commission's Digital Single Market Strategy proposals, reform of UK and EU rules governing confidentiality of communications and interceptions, and other technology-related legal and policy initiatives.
Providing guidance on European trade sanctions and asset freezing measures, including those relating to Iran, Syria, Ukraine, Russia, North Korea, and Belarus.
Assisting multiple major financial services companies in conducting internal investigations and preparing filings to regulators in relation to EU trade compliance issues.
Assisting a major medical devices company to advocate on IP and medical devices issues at the World Health Organization.
Advising Evidence for Development, a charity dedicated to improving the effectiveness of development aid through economic analysis.
Advising Privacy International, a leading privacy NGO, on a range of law reform privacy-related matters.
Advising Internews, an NGO that empowers local media worldwide, on the implementation of freedom of information and online media content laws.
Memberships and Affiliations
International Association of Privacy Professionals
Internship as a speechwriter for the U.S. Secretary of Defence, Robert Gates, at the Office of the Secretary of Defence Public Affairs (OSDPA) in 2009.
Other internships at urban policy think tank in San Francisco and at a leading Seattle labour law firm.
Education
College of Law, London, L.P.C., 2010
College of Law, London, G.D.L., 2009
London School of Economics, M.Sc., 2008
International Relations
First Class
London School of Economics, B.Sc., 2007
Philosophy, Logic and Scientific Method
First Class