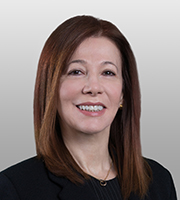 Esther Scherb's practice focuses on healthcare and regulatory matters, with an emphasis on Medicare, Medicaid and other government programs administered by the U.S. Department of Health and Human Services (HHS). She counsels clients on reimbursement and compliance issues faced by the healthcare and life sciences industries.
Dr. Scherb assists providers, medical device, pharmaceutical and biotechnology manufacturers, private equity firms, investment bankers and other industry groups in various matters, including development and implementation of comprehensive reimbursement strategies for new and existing technologies; reimbursement and compliance counseling; advocacy with the Centers for Medicare & Medicaid Services (CMS), Medicare Administration Contractors and third-party payors on coverage, coding, payment, enrollment and certification policies; representation in administrative and federal court litigation stemming from government audits and payment disputes; analysis and interpretation of regulatory risks and implications for investment, corporate mergers, acquisitions and affiliations; and compliance with government drug pricing programs, including pricing methodologies and reporting.
Dr. Scherb served with the HHS Office of the General Counsel. She represented the Health Care Financing Administration (now CMS) in all phases of litigation involving hospitals, clinics, physicians and other medical providers, and counseled the agency on Medicare policies, rulings and guidelines. She also represented HHS in a number of Medicare and Medicaid investigations and appeals.