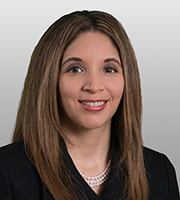 Cher Stevenson is a senior staff attorney specializing in discovery for complex litigation and regulatory matters.
She supervises teams of contract attorneys, and works with other attorneys, Litigation Support, and outside vendors in order to provide efficient and cost-effective discovery. Ms. Stevenson also assists in managing cases requiring foreign language expertise, to include translation and interpretation services.
Prior to joining the firm, Ms. Stevenson worked in the areas of health care litigation and transactions, administrative law, and health policy.