Our Website Uses Cookies
We and the third parties that provide content, functionality, or business services on our website may use cookies to collect information about your browsing activities in order to provide you with more relevant content and promotional materials, on and off the website, and help us understand your interests and improve the website.
For more information, please contact us or consult our Privacy Notice.
Your binder contains too many pages, the maximum is 40.
We are unable to add this page to your binder, please try again later.
This page has been added to your binder.
Alexandra Scott
Associate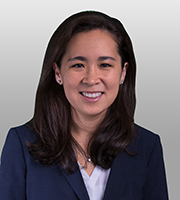 Alexandra Scott advises clients on a wide range of privacy, cybersecurity, and communications issues.
Ms. Scott represents clients in responding to a wide range of cybersecurity incidents, including advanced persistent threats targeting personal and financial information and proactively counsels clients in terms of use, privacy policies, and compliance with state and federal law. In addition, Ms. Scott regularly advises journalists on issues related to privacy, defamation, copyright, and newsgathering.
Represents multiple companies in responding to data and cybersecurity incidents, including attacks by Advanced Persistent Threats targeting personal and financial information
Provides ongoing privacy and data protection advice to a number of companies; including on terms of use and privacy policies, and how to comply with state data breach notification laws.
Counsels companies on privacy and cybersecurity due diligence issues in connection with major corporate transactions.
Conducted privacy audit of global social media applications and data retention audit of enterprise mobility application.
Advised global technology companies on the California Consumer Privacy Act, including how companies can leverage existing global procedures to comply with that legislation.
Counsels television journalists on privacy, defamation, copyright, and newsgathering issues.
Advised a large multi-faceted media company on compliance with advertising laws.
Represents military veteran in CAVC proceedings.
Represents juvenile in immigration proceedings.
Represents petitioner in state clemency proceedings.
Represented domestic violence victim in restraining order proceedings.
Hon. Stephen J. Reinhardt, Ninth Circuit Court of Appeals, Judicial Extern

California Consumer Privacy Act (CCPA)
We are representing clients on California Consumer Privacy Act (CCPA) compliance, including in the legislative amendment and rulemaking proceedings associated with the CCPA and in developing working plans to come into compliance with the CCPA.
Get CCPA Insights
Education
The University of Chicago Law School, J.D., 2017
The University of Chicago, B.A., 2014
with Departmental Honors
with General Honors