Our Website Uses Cookies
We and the third parties that provide content, functionality, or business services on our website may use cookies to collect information about your browsing activities in order to provide you with more relevant content and promotional materials, on and off the website, and help us understand your interests and improve the website.
For more information, please contact us or consult our Privacy Notice.
Your binder contains too many pages, the maximum is 40.
We are unable to add this page to your binder, please try again later.
This page has been added to your binder.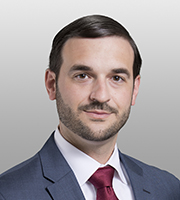 Alejandro L. Sarria is an experienced government contracts litigator and counselor. He represents civilian and defense contractors in litigation involving the federal government, including in contract disputes before the Boards of Contract Appeals (BCA) and U.S. Court of Federal Claims (COFC). Mr. Sarria also defends private contractors in high-profile tort cases arising out of military operations, national security programs, and environmental remediation projects.
In his counseling practice, Mr. Sarria advises government contractors on a range of federal procurement issues, including matters involving cost allowability, tort mitigation under federal insurance (FAR 52.228-7) and indemnity provisions (Public Law 85-804, 10 U.S.C. § 2354), TINA cost or pricing data, the Cost Accounting Standards (CAS), commercial items and GSA schedule contracting, subcontract flowdowns and formation, the Mandatory Disclosure Rule, the Anti-Deficiency Act, and the SAFETY Act.
He holds a DoD Top Secret security clearance.
Mr. Sarria serves as outside General Counsel for the Congressional Hispanic Leadership Institute (CHLI), a prominent bipartisan non-profit organization that promotes the advancement of Hispanic-American interests in the U.S. and global economy.
Successfully represented the first public utility in the United States to obtain liability protection under the SAFETY Act for its anti-terrorism security program.
Successfully represented Top 100 government contractor as co-lead counsel in a $55M CDA dispute with the Army regarding the allowability of private security costs. Participated in 5-week bench trial and authored briefs that resulted in a complete victory for the contractor at the ASBCA.
Successfully represented Top 100 government contractor in a wrongful employment termination suit arising from a TVA environmental remediation project at the Kingston Fossil Plant in Tennessee.
Successfully represented Top 100 government contractor in a $12M prime-subcontractor dispute litigated in U.S. federal district court.
Successfully asserted the government contractor defense on behalf of Top 20 Federal Government Contractor in a tort suit arising from DHS's use of cargo scanning equipment at the U.S.-Mexico border.
Represented Top 100 government defense contractor in a $21M Contract Disputes Act (CDA) dispute with the Army over unpaid award fees. Litigated before COFC and obtained settlement for more than 99% of the claimed amount.
Represented two Fortune 500 companies in a $2B class action for alleged non-payment of Defense Base Act (DBA) benefits. Successfully litigated the matter before the U.S. federal district court, court of appeals, and Supreme Court.
Represented Top 10 government contractor in a high-profile products liability suit arising from the crash of a military fighter jet during a classified operation. Successfully removed the case from state to U.S. federal court.
Successfully represented Top 10 government contractor in a multi-million contract dispute before the FAA's Office of Dispute Resolution for Acquisition (ODRA).
Successfully prosecuted bid protest of multi-million dollar CMS procurement before the U.S. Government Accountability Office (GAO).
Lead counsel in bid protest of multi-million dollar VA procurement for home oxygen services before GAO.
Successfully prosecuted multiple bid protests of multi-million dollar DLA procurements before GAO.
Memberships and Affiliations
Congressional Hispanic Leadership Institute, Pro Bono General Counsel
ABA Section of Public Contract Law, Contract Claims and Disputes Resolution Committee, Vice-Chair
ABA Section of Public Contract Law, Battlespace and Contingency Procurements Committee, Vice-Chair
National Defense Industrial Association, Procurement Division & Legal Committee
Hispanic National Bar Association
Cuban American Bar Association
Washington DC Super Lawyers, Government Contracts "Rising Star" (2018)