Nicole Y. Roberts
Associate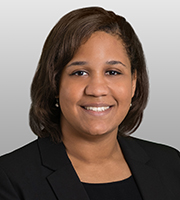 Nicole Roberts is an associate in the firm's Washington, DC office. Her practice focuses on complex consumer protection regulatory matters and government investigations.
Ms. Roberts assists internet, technology, consumer brands, health and wellness brands, and other companies navigate advertising and consumer protection issues. She provides counseling and compliance advice on a wide range of consumer protection issues, including, for example, claim substantiation, endorsements, social media influencers, product labeling requirements, and subscription auto-renewal marketing. Ms. Roberts works with clients to minimize regulatory and litigation risks while achieving business and marketing goals.
Ms. Roberts also helps clients engage strategically with federal and state regulators. She has experience representing major companies and individuals in matters before the Federal Trade Commission, the U.S. Department of Justice, Congress, and self-regulatory bodies such as the Direct Selling Self-Regulatory Council (DSSRC).
Ms. Roberts maintains an active pro bono practice, with a particular interest in disability rights advocacy and appellate litigation.
Prior to joining the firm, Ms. Roberts clerked for the Honorable James A. Wynn, Jr. of the United States Court of Appeals for the Fourth Circuit.