Our Website Uses Cookies
We and the third parties that provide content, functionality, or business services on our website may use cookies to collect information about your browsing activities in order to provide you with more relevant content and promotional materials, on and off the website, and help us understand your interests and improve the website.
For more information, please contact us or consult our Privacy Notice.
Your binder contains too many pages, the maximum is 40.
We are unable to add this page to your binder, please try again later.
This page has been added to your binder.
Charlotte Ryckman
Associate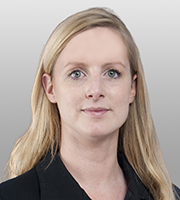 Charlotte Ryckman assists clients across a complex range of regulatory, legal and procedural matters. Her practice focuses on the European Union rules and on the laws in key EU Member States, including Belgium and The Netherlands.
Ms. Ryckman has experience in assisting pharmaceutical and medical device companies in a variety of life science regulatory matters. She also advises international companies on data privacy matters such as data breaches and international transfers. Ms. Ryckman has been involved in representing some of these companies in high-profile litigation matters in Belgium.
Ms. Ryckman's practice also focuses on environmental and product safety matters, particularly regarding telecommunications.
Representation of pharmaceutical companies regarding pricing and reimbursement matters in Belgium.
Advice and representation of large multinationals in privacy disputes with EU regulators.
Development of compliance solutions for international data transfers, whistleblowing schemes and employee monitoring schemes.
Assistance to multinational companies on regulatory compliance and product withdrawals relating to EU environmental legislation and product safety legislation.
Advice to multinational pharmaceutical companies on regulatory compliance with EU pharmaceutical and biotechnology legislation.
Assistance of a Belgian company regarding infringements of pharmaceutical legislation, challenging the validity of the legislation in light of EU law.
Assistance of pharmaceutical associations in drafting position papers on the recast of EU legislation such as the clinical trials frameworks.
Assistance on compliance models in light of EU pharmaceutical and national pharmaceutical legislation and self-regulatory codes.
Advice to pharmaceutical companies relating to privacy compliance in clinical trials.
Advice on international company policies in light of European and Belgian consumer legislation.
Advice and representation in relation to Belgian and international humanitarian law.
International public affairs, with a focus on EU advocacy.
European Parliament; academic research projects for the European Commission's DG Justice.
Education
King's College, London, LL.M., 2010
European Law
magna cum laude
Ghent University, LL.M., 2009