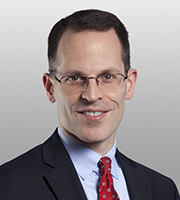 Andrew Ruffino represents financial institutions and other corporate clients in complex litigation involving antitrust claims, securities law, business torts, and corporate governance issues.
He has extensive experience defending class actions and other cases arising out of financial instruments and capital markets transactions. He has handled litigation and investigations focusing on accounting issues, including options backdating, accounting for derivatives, revenue recognition, and purchase accounting.
Mr. Ruffino is also a member of Covington's Management Committee.
Mr. Ruffino has also served as counsel to court-appointed fiduciaries in SEC enforcement proceedings, and he has prosecuted insurance coverage actions on behalf of corporate policy-holders.
He previously served as a vice chair of the firm's litigation department and co-chair of its e-discovery practice group.