Our Website Uses Cookies
We and the third parties that provide content, functionality, or business services on our website may use cookies to collect information about your browsing activities in order to provide you with more relevant content and promotional materials, on and off the website, and help us understand your interests and improve the website.
For more information, please contact us or consult our Privacy Notice.
Your binder contains too many pages, the maximum is 40.
We are unable to add this page to your binder, please try again later.
This page has been added to your binder.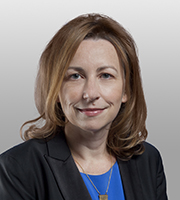 Morag Peberdy advises clients on intellectual property issues in Europe, including patents, trade marks, designs, copyright, database rights and confidential information. Ms. Peberdy is a qualified solicitor advocate, allowing her to represent clients at the highest level of English litigation. She has successfully litigated patent, trade mark and trade secret cases in the High Court. She regularly advises on contractual disputes, for example over the terms of R&D agreements, and acted for the winning party in one of the highest profile English disputes concerning a patent licence.
Ms. Peberdy advises clients on the intellectual property issues arising in corporate transactions, including mergers and acquisitions, initial public offerings, venture capital investments, and restructurings. Ms. Peberdy also drafts a range of intellectual property agreements including technology transfers, intellectual property pipeline arrangements, licensing and joint ventures. Ms. Peberdy's insight into both contentious and non-contentious IP matters enables her to bring a valuable perspective and breadth of knowledge to strategic intellectual property issues, which is invaluable in assisting clients' intellectual property law reform efforts.
Ms. Peberdy has a background in biological sciences and she particularly enjoys working with clients in the life science sector. Ms. Peberdy has been a member of the Intellectual Property Advisory Committee of the BioIndustry Association for over a decade, advising across the spectrum of intellectual property issues which impact on bioscience enterprises in the UK.
Laboratorios Esteve, S.A. in a global multi-programme discovery and development collaboration with Mundipharma Laboratories GmbH and Purdue Pharmaceuticals LP to bring to market important next generation products for the management of pain.
A luxury goods company on trademark and copyright litigation in the UK and Belgium.
Cambridge Antibody Technology in its successful English court litigation over royalties in relation to sales of the monoclonal antibody product Humira.
Securing the in-licensing of patent and know-how rights to two UK spin-out companies in the fields of rheumatology, and anti-inflammatory and anti-cancer therapy.
A large US pharmaceutical company in a English court action involving a patent licence agreement relating to antibody technology.
Advising on IP diligence, reps and warranties, and preparing IP agreements for a complex medical device M&A transaction.
Multi-jurisdictional trade mark licensing for an international consumer goods company.
The interpretation of patent licence and R & D agreements relating to various life science technologies for a major UK research body.
The British Horseracing Authority on the reorganization of the British horseracing industry and exploitation of the database of British horseracing.
Federation Internationale de l'Automobile's (FIA) grant of the long-term commercial rights attaching to the Formula 1 World Motor Racing Championship.
A UK listed technology company in a complex English patent entitlement and breach of confidence action.
Intercell AG in connection with its acquisition of Cytos Biotechnology Ltd's platform technology for monoclonal antibody discovery.
A leading Swedish engineering company in relation to a large patent action involving complex issues of European competition law (Sandvik AB v. Zhuzhou).
The intellectual property aspects of a US listed company's potential hostile bid for a listed life sciences company.
Chair of pro bono activities in the London office.
Barnardo's (the UK's leading children's charity) on a range of intellectual property issues.
An individual client, referred by LawWorks, to successfully resolve a UK copyright action.
Memberships and Affiliations
Member of the Consultation Board, PLC Life Sciences Service
UK BioIndustry Association Intellectual Property Advisory Committee
Licensing Executive Society (LES)
International Association for the Protection of Intellectual Property (AIPPI)
The Intellectual Property Lawyers Organisation (TIPLO)
Euromoney Legal Media Group, Europe Women in Business Law Awards - Winner for Patent (2015-2016); shortlisted for Patent (2017-2018)
IAM Patent 1000 - The World's Leading Patent Practitioners, Recommended (2014-2017)
Legal 500 UK

Pharmaceuticals & Biotech (2012-2016)
IP (2011-2013)