Our Website Uses Cookies
We and the third parties that provide content, functionality, or business services on our website may use cookies to collect information about your browsing activities in order to provide you with more relevant content and promotional materials, on and off the website, and help us understand your interests and improve the website.
For more information, please contact us or consult our Privacy Notice.
Your binder contains too many pages, the maximum is 40.
We are unable to add this page to your binder, please try again later.
This page has been added to your binder.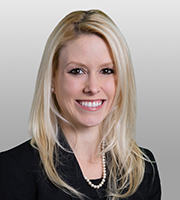 Jadzia Pierce is an associate in the firm's Washington, DC office. She is a member of the Data Privacy and Cybersecurity and Communications and Media Practice Groups.
Before joining the firm, she was the Privacy, Surveillance, and Security Fellow at the Center for Democracy & Technology.
Advises multinational companies on cyber and data security incident preparedness, including development of incident response plans, conducting of security gap analyses, and determination of regulatory obligations and litigation risk levels.
Counsels clients on compliance with various federal and state privacy laws.
Represents clients in responding to Federal Trade Commission investigations and inquiries.
Reviews companies' privacy policies and terms of use for compliance with legal and regulatory requirements.
Assists clients in negotiating commercial transactions relating to content distribution.
Provides ongoing representation to journalists at local news media organizations on First Amendment issues, from public records requests and state defamation laws to retraction requests and access to court proceedings.
Counsels various media, internet, and technology clients in legislative, Federal Communications Commission, and industry issues.
Providing ongoing representation to nonprofit organization in responding to and seeking additional information about the Administration's "extreme vetting" visa applicant program.
Assisted nonprofit groups in drafting and submitting amicus brief in response to the United States v. Glassdoor case.
Assisting veteran in health benefits claim before the Court of Appeals for Veterans Claims.
Memberships and Affiliations
American Bar Association – Section of Science & Technology Law; Web Editor – Homeland Security Committee
Federal Communications Bar Association (FCBA)
Center for Democracy & Technology, Privacy, Surveillance & Security Fellow (2015-2016)
APCO Worldwide, Strategic Communications and Issues Management Consultant (2010-2012)