Douglas Brian Poucher
Senior Advisor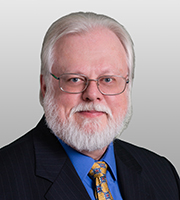 Doug Poucher has over 39 years of experience in food and drug matters, including over 16 years with the Food and Drug Administration (FDA). He is recognized for his knowledge, application and interpretation of QSR regulations for medical devices and CGMP regulations for pharmaceutical and biologic products (sterile and non-sterile dosage forms and active pharmaceutical ingredients).
Mr. Poucher, a non-lawyer, has significant experience in FDA inspection preparedness and response, including in the areas of deviation management (manufacturing non-conformance and failure investigations, corrective and preventative actions); quality systems; data and application integrity investigations; change control systems; facilities and equipment validation and controls; and conducting mock pre-approval audits and verification audits. He has provided consulting services to numerous pharmaceutical, biologic and medical device manufacturers in the U.S., Canada, Mexico, Eastern and Western Europe, Japan, China and Australia. Mr. Poucher has significant experience preparing communications to FDA in response to FDA-483s and Warning Letters, along with corrective action plans and quality improvement plans.
While at the FDA, Mr. Poucher served as an Investigator and Drug Specialist Investigator. He performed inspections and investigations of pharmaceutical, medical device, biologic, and radiation emitting product firms with emphasis on quality system compliance, manufacturing systems compliance, facility equipment and process qualification, deviation, nonconformance and failure investigations and corrective and preventative action systems. Mr. Poucher participated in numerous investigations, including counterfeit drugs and illegal import operations.