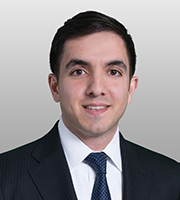 Weiss Nusraty advises clients on cybersecurity and national security matters, including cyber and data security incident response, and government and internal investigations.
Mr. Nusraty joined Covington from the U.S. Department of the Treasury where he served as a Policy Advisor within the Office of Terrorism and Financial Intelligence. In that role, Mr. Nusraty developed and implemented strategies on a range of matters, including financial sanctions, anti-money laundering and counter-terrorist financing. He worked closely with the intelligence community and other government agencies to disrupt illicit financial networks posing a threat to U.S. national security.
Prior to joining the Treasury Department, Mr. Nusraty served as an Intelligence Officer in the U.S. Air Force. While on active duty, he served as an Operations Officer at the National Security Agency (NSA), where he directed signals intelligence and cyber operations against high priority targets. During this assignment, he was selected as the Air Force's Intelligence Professional of the Year. Mr. Nusraty currently serves in the U.S. Air Force Reserve at the Pentagon.