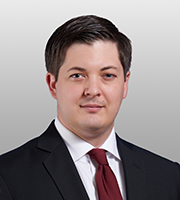 John Niles develops and executes efficient, innovative, and practical insurance recovery strategies for policyholders in the energy, manufacturing (including applied sciences), and other industries, that have yielded more than $350 million in recoveries for his clients, with individual recoveries ranging from under $1 million to more than $100 million.
As an associate in the firm's Insurance Coverage - Policyholders practice group, Mr. Niles provides strategic guidance to policyholders as they seek recoveries through settlement agreements, mediation, domestic arbitration, international arbitration, and state or federal litigation. He has represented policyholders in connection with a variety of coverage-in-place and buyout settlement structures and through all phases of insurance litigation, from preparing complaints through drafting successful briefs before state high courts.
Mr. Niles' experience extends to many types of liabilities and losses, including those from asbestos, construction defect, environmental remediation, pharmaceutical, silica, and other third-party claims; and for property damage, business interruption, contingent business interruption, and other first-party losses.
In addition, Mr. Niles guides policyholders in securing recoveries from insolvent insurers, guaranty funds, and insurers participating in UK solvent schemes of arrangement.