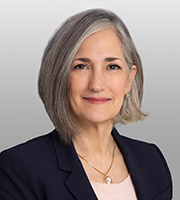 Muftiah McCartin is of counsel and vice-chair of the Public Policy and Government Affairs Practice Group. Ms. McCartin's distinguished public service career spans 34 years on Capitol Hill. Prior to joining the firm, she served as staff director of the House Committee on Rules. In that position, she worked with the leadership of the House of Representatives in supervising all of the major legislation that came before the 111th Congress.
Ms. McCartin calls upon that deep knowledge to advise clients on a wide range of legislative, policy, and procedural matters. She is involved in many of the firm's leading policy-related representations involving companies in diverse sectors, including aerospace and defense, food and beverage, technology, entertainment, transportation, and IT and electronics. The range of clients that she represents underscores her unique ability to effectively represent clients on a variety of issues.
Prior to her service for the Rules Committee, Ms. McCartin was a member of the professional staff of the House Committee on Appropriations. Earlier in her House career, Ms. McCartin served for many years in the Office of the Parliamentarian, where, in 1991, she became the first woman appointed a parliamentarian. Along with advising all House members and committee staffs on parliamentary procedure, Ms. McCartin advised the Speaker and other presiding officers on floor procedures, reviewed proposed legislation and amendments for conformity with House rules, served as an expert on the budget and appropriations processes, and was the managing editor of both House Rules and Manual and House Practice.