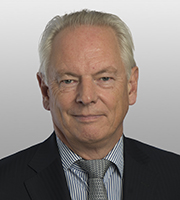 With a political career spanning almost 40 years, Lord Francis Maude has held a number of high profile government positions, including as shadow Chancellor of the Exchequer, shadow Foreign Secretary, and Conservative Party Chairman. He was Minister for Europe under Margaret Thatcher, and a signatory to the Maastricht treaty. More recently, he was Minister for the Cabinet Office and Paymaster-General, and then Minister for Trade and Investment. Lord Maude was elevated to the House of Lords in May 2015.
As part of Covington's Public Policy & Government Affairs group and Covington's Brexit Taskforce, Lord Maude forms part of a key panel of senior advisors guiding clients through the evolving post-Brexit vote landscape.
Lord Maude, a non-lawyer, draws on his experience in international trade issues to advise clients on UK and European business issues. In his previous post as UK Trade and Investment Minister, Lord Maude not only underlined Britain as a strong place for business but also boosted the environment for UK-based businesses to export globally. It is this insight which he brings to Covington client issues.