Erika Mann
Senior Advisor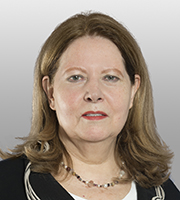 Erika Mann, a non-lawyer, is a senior European policy advisor in Covington's EU Public Policy Practice Group. A former Member of the European Parliament, Ms. Mann has over 20 years of experience in policy related matters.
Ms. Mann is a current Board member of the Internet Corporation for Assigned Names and Numbers (ICANN), which she first joined in 2011 and was re-elected in 2014.
She was a Member of the European Parliament (MEP) for Germany between 1994 and 2009. As an MEP, she concentrated on trade policy, transatlantic relations, financial services, pharmaceuticals, digital economy, telecommunications and Internet related legislation and research policy. Ms. Mann was the Chairperson of the Joint Board which coordinates World Trade Organization matters between the European Parliament and the Inter-Parliamentary Union (IPU) based in Geneva. She also served as the Chairperson of the European Parliament Delegation with Mexico between 2005 and 2009, and has worked on Free Trade Agreements with various countries. She served on European Parliament delegations to Ukraine, Moldova, Belarus, EFTA-Countries, and South Asia.
Ms. Mann was the Executive Vice President of the Computer & Communications Industry Association between December 2009 and October 2011. In that role, she built and led the Association's Brussels office.
Prior to this, Ms. Mann was the European Chairperson of the Transatlantic Policy Network between 2003 and 2008. In this position, she conceived the notion of a "transatlantic market" between the EU and the U.S., which lead to the foundation of the Transatlantic Economic Counsel (TEC). She sat as a member of the advisory board of TEC until 2009.
Over her career in public policy, Ms Mann held positions of non-resident Senior Fellow of the Atlantic Council (based in Washington) and a Trustee of Friends of Europe (based in Brussels). She was the Chairperson of the evaluation board for the Risk-Sharing-Finance Facility (RSFF), a financing instrument governed by the EU and the European Investment Bank.
Ms. Mann is a lecturer and author of numerous publications on trade, transatlantic relations and digital economy related topics.
Ms. Mann is part of Covington's global public policy team, which includes experienced lawyers as well as other former senior policymakers. The team advises clients on a range of European public affairs issues, including the EU policy-making processes and functioning of the European institutions.