Our Website Uses Cookies
We and the third parties that provide content, functionality, or business services on our website may use cookies to collect information about your browsing activities in order to provide you with more relevant content and promotional materials, on and off the website, and help us understand your interests and improve the website.
For more information, please contact us or consult our Privacy Notice.
Your binder contains too many pages, the maximum is 40.
We are unable to add this page to your binder, please try again later.
This page has been added to your binder.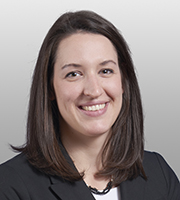 Catlin Meade advises clients across a broad range of cybersecurity and government contracts matters, including government and internal investigations, compliance with cybersecurity and data breach regulations, and SAFETY Act applications.
Counsel to multiple companies in responding to data and cybersecurity incidents.
Advised a leading defense contractor on a multi-million-dollar prime-subcontractor dispute in connection with a NATO contract.
Key member of team that successfully represented a large government contractor in proceedings before a military department Suspending and Debarring Official, resulting in a determination of present responsibility.
Advised Fortune 100 financial services corporation on all aspects of federal contracting, including legal review of solicitations, contract administration, and novation of existing contracts in connection with the company's global reorganization of various business units.
Represented three large sports stadiums during their successful efforts to obtain SAFETY Act protection for their respective security programs.
Advised top software company on compliance with newly-promulgated cybersecurity regulations.
Advised a congressionally chartered nonprofit organization in responding to FOIA requests from a major news outlet under FOIA's expedited processing provision.
Assisted a Fortune 100 company in responding to a reverse FOIA request by providing a substantiation response to the executive agency asserting applicable FOIA exemptions.
Represented top ten defense contractor in connection with an internal False Claims Act investigation.
Represented defense contractor in connection with an internal investigation regarding allegations of improper use of government funds for prohibited lobbying activities.
Key member of team that successfully represented commercial services contractor in a post-award agency protest convincing agency to reopen procurement and allow opportunity for new proposal submissions and ultimately change its decision and award to our client.
Key member of team that successfully represented protestor at GAO, obtaining new opportunity for client to participate in the procurement.
Advised Federal grantee with regard to subcontract with non-profit research firm.
Filed amicus brief in the Fourth Circuit Court of Appeals on behalf of a non-profit advocacy group in support of various gun control regulations.
Education
American University, Washington College of Law, J.D., 2013
College of William and Mary, B.A., 2008