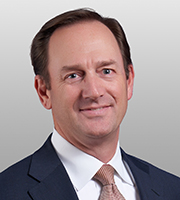 Allan B. Moore practices in the areas of international arbitration and insurance coverage and is co-chair of the firm's Arbitration Practice Group. He represents a broad array of multinational corporations and regularly appears before both international and domestic arbitral tribunals, as well as federal and state courts throughout the United States. Mr. Moore has helped clients recover more than $2.5 billion in damages awards, fee awards, and settlement payments in various commercial, investment, and insurance coverage disputes. He has served as lead counsel for successful parties in ICC, ICSID, UNCITRAL, DIFC-LCIA, SCC, AAA, CPR, and ad hoc arbitrations, as well as ICC expert proceedings, involving both common law and civil law systems, and he has extensive experience with "Bermuda Form" arbitrations. He has particular expertise in energy, mining, insurance, and corporate transactional disputes.
Mr. Moore coordinates closely with the firm's offices in London, where he formerly resided, and Dubai, and he frequently handles cases in London today. He also occasionally sits as an arbitrator, having recently served on an ICC tribunal in a $200 million dispute relating to a concession agreement in the Red Sea and on an ICDR tribunal involving a contract dispute in the renewable energy sector. Mr. Moore is a Member of the LCIA Court, the supervisory body of the London Court of International Arbitration (LCIA); a member of the Executive Committee and former Co-Chair of the Membership Committee of the Institute for Transnational Arbitration (ITA); a peer-selected "Distinguished Neutral" for arbitration and mediation in "Energy, Oil & Gas," "Insurance," "Insurance - Policyholder Coverage," and "Washington DC ADR" with the International Institute for Conflict Prevention and Resolution (CPR); and a rostered arbitrator with the Institute for Energy Law (IEL).
The Legal 500 previously named Mr. Moore one of 17 "Leading Lawyers" for international arbitration in the United States. Clients in major matters include Apache, BP, Blackstone Group, Eli Lilly, ExxonMobil, FeraDyne Outdoors, the Hashemite Kingdom of Jordan, Joy Global, Kamylon Capital, Kockums, Merck, Microsoft, Norfolk Southern, UBS, and various privately held entities and individuals. Mr. Moore has written numerous articles on issues pertaining to international arbitration, evidence, advocacy, and insurance law, and he is a frequent speaker and lecturer on these topics.