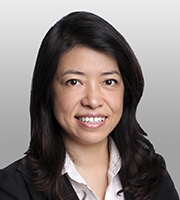 Weishi Li is a partner in the firm's Shanghai office. Her practice covers a wide range of technology-related transactions across multiple sectors, including the life sciences and hi-tech industries. She has extensive experience assisting multinational companies and Chinese companies in structuring and negotiating cross-border transactions with a significant intellectual property element, such as technology joint ventures and strategic alliances.
Ms. Li has particular expertise in the life sciences sector, having assisted many western and Chinese life sciences companies in structuring and negotiating commercial, corporate and partnering transactions in China, including strategic collaborations, joint ventures, licensing, acquisitions, co-promotion and distribution arrangements.
She started her legal career in private practice in Boston, and moved to Shanghai in 2005, where she has been based since. She has built up extensive knowledge and experience in dealing with issues unique in cross-border transactions involving China.