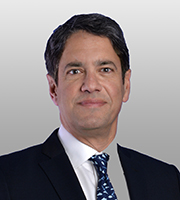 Mr. Kuhn represents clients in the technology and media sectors. He also has extensive experience in the travel industry and in other consumer-facing ecommerce businesses. His clients include public companies, private equity investors, entrepreneurs, and senior executives.
Mr. Kuhn's practice emphasizes M&A transactions, capital raising, corporate governance, and strategic counseling. He has extensive experience with a broad range of public and private companies, having previously served as SVP and General Counsel of USA Networks Inc. (now IAC) and as a Managing Director at Allen & Company, a New York-based merchant bank.
Although Mr. Kuhn's practice emphasizes corporate transactions, he also advises clients regarding governance matters, restructurings, and senior executive employment arrangements. Throughout his career, he has represented corporate boards and independent committees on a wide range of complex general corporate governance and securities laws matters.
Since 2008, Mr. Kuhn has been a Director of ILG, Inc., a publicly-traded travel and leisure provider, where he is also Chairman of the Nominating and Governance Committee and a member of the Audit and Executive Committees of the Board.
Immediately following his graduation from law school, Mr. Kuhn served as a law clerk to the late Hon. Richard J. Cardamone of the United States Court of Appeals for the Second Circuit.