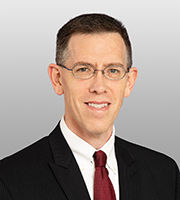 Scott Kamholz combines his experience as an Administrative Patent Judge at the U.S. Patent Trial and Appeal Board (PTAB) and background in medicine, biophysics, and engineering to advise clients in the life sciences sector on a variety of complex patent litigation matters and PTAB proceedings. Dr. Kamholz was the first PTAB judge to enter private practice after presiding over AIA trial proceedings from start to finish. He has assisted clients in dozens of PTAB proceedings since returning to private practice.
During his time at the PTAB, Dr. Kamholz handled more than 120 inter partes review (IPR) and Covered Business Method (CBM) proceedings under the Leahy-Smith America Invents Act of 2011 (AIA). He leverages his knowledge of the PTAB trial process to assist clients with AIA trial matters.
As one of the first judges to preside over AIA trials, Dr. Kamholz wrote many widely cited opinions that established basic principles for PTAB proceedings, mentored numerous other judges, and spoke extensively on AIA trial procedures. His proceedings concerned a wide variety of technologies, including pharmaceuticals, biologics and biosimilars, medical devices, polymers, energy production, software, electronics, and business methods. Dr. Kamholz also wrote over 80 opinions deciding appeals in patent applications and patent reexamination proceedings.
Dr. Kamholz is regularly quoted in notable industry publications and news sources such as The American Lawyer, Law360, The Washington Post, The Boston Globe, Bloomberg Business, Life Sciences Intellectual Property Review and FiercePharma.