Our Website Uses Cookies
We and the third parties that provide content, functionality, or business services on our website may use cookies to collect information about your browsing activities in order to provide you with more relevant content and promotional materials, on and off the website, and help us understand your interests and improve the website.
For more information, please contact us or consult our Privacy Notice.
Your binder contains too many pages, the maximum is 40.
We are unable to add this page to your binder, please try again later.
This page has been added to your binder.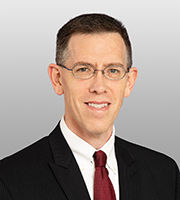 Scott Kamholz has scored major wins for clients in PTAB cases involving blockbuster life science technologies. He combines his experience as an Administrative Patent Judge and background in medicine, biophysics, and engineering to advise clients in the life sciences sector on a variety of complex patent litigation matters and PTAB proceedings. He has handled dozens of PTAB proceedings since returning to private practice.
As one of the first judges to preside over AIA trials, Dr. Kamholz wrote many widely cited opinions that established basic principles for PTAB proceedings, mentored numerous other judges, and spoke extensively on AIA trial procedures. His proceedings concerned a wide variety of technologies, including pharmaceuticals, biologics and biosimilars, medical devices, polymers, energy production, software, electronics, and business methods. Dr. Kamholz handled over 120 AIA proceedings and also over 120 appeals in patent applications and patent reexamination proceedings.
Currently counsel of record in 12 AIA proceedings before the PTAB.
Lead Counsel for General Electric Company as patent owner in multiple IPR proceedings filed by Toyota Motor Corporation. The patents concern hybrid car technology.
Lead Counsel for University of Chicago as patent owner in a PGR filed by Genome & Company. The patent concerns co-administration of an immune checkpoint inhibitor and a bacterial formulation including bifidobacterial.
Counsel for Hoffmann-La Roche, Inc. as patent owner in an IPR challenging a patent concerning immunoglobulin production.
Lead Counsel for Huawei as petitioner in an IPR filed against a patent concerning wireless communication technology. The IPR was instituted in October 2018.
Represented Genentech, Inc. as patent owner in an IPR challenging a patent concerning AVASTIN® cancer therapy. The PTAB denied institution in August 2018.
Advised Eli Lilly and Company as petitioner in an IPR filed against a patent owned by the Trustees of the University of Pennsylvania allegedly covering Lilly's ERBITUX® cancer therapy. The PTAB found all challenged claims unpatentable, a decision summarily affirmed by the Federal Circuit on appeal in September 2018.
Advised Bristol-Myers Squibb Company as patent owner in an IPR brought by Momenta Pharmaceuticals, Inc., challenging a patent concerning ORENCIA® rheumatoid arthritis therapy. The PTAB rejected petitioner's challenge and confirmed the patentability of all challenged claims. The Federal Circuit dismissed Momenta's appeal for lack of standing and mootness in February 2019.
Represented AstraZeneca as patent owner in an IPR challenging a patent concerning SYMBICORT® asthma and COPD therapy. The PTAB denied institution in July 2017
Counsel of Record for Pharmaceutical Research and Manufacturers of America (PhRMA) in numerous amicus briefs before the Supreme Court of the United States and the Court of Appeals for the Federal Circuit.
Memberships and Affiliations
American Intellectual Property Law Association, Member
Boston Intellectual Property Law Association, Member
U. S. Patent Trial and Appeal Board (PTAB), Administrative Patent Judge