Robert J. Kayihura
Of Counsel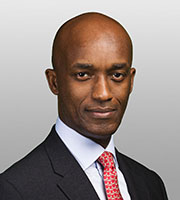 Robert Kayihura serves as of counsel resident in the firm's Johannesburg office and is a vice chair of the Africa Practice Group. He leads the innovative Global Problem Solving initiative, the Public Policy and Technology practice areas in Africa.
Mr. Kayihura has extensive experience negotiating with and advising decision makers at leading companies, regional policy making bodies and national governments on a wide range of legal and policy issues related to technology transactions, market access, and complex opportunities and disputes at the intersection of law and public policy.
Drawing on his experience as an entrepreneur, trade and policy advisor and former legal director at Microsoft and Uber, Mr. Kayihura relies on a diverse set of perspectives when advising and representing innovative public and private companies across sectors effectively navigate legal, compliance, and regulatory issues associated with the launch of new markets, products, and services.