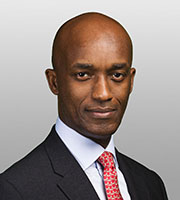 Robert Kayihura has nearly two decades of experience advising clients across the African continent. Drawing on his experience as an entrepreneur, advisor and former legal director at global technology corporations like Uber and Microsoft, Mr. Kayihura helps clients effectively navigate legal, compliance, policy, and regulatory issues associated with the launch of new markets, products, and services. He has worked closely with decision makers at these organizations as well as with federal governments and regional policy making bodies.
Throughout his career, Mr. Kayihura has counseled on varied, political, economic, and social issues including, but not limited to, commercial (technology licensing and transactions), information technology policy and regulatory issues, FCPA, leasing and finance, strategic partnerships, dispute resolution (civil, criminal, and regulatory), and corporate social responsibility initiatives.
In addition to continuing to advise clients on these issues, Mr. Kayihura will work closely with the Africa Practice Group chair to help manage and build the firm's Public Policy Practice Group in order to help solve complex problems at the intersection of law and policy across Africa.