Our Website Uses Cookies
We and the third parties that provide content, functionality, or business services on our website may use cookies to collect information about your browsing activities in order to provide you with more relevant content and promotional materials, on and off the website, and help us understand your interests and improve the website.
For more information, please contact us or consult our Privacy Notice.
Your binder contains too many pages, the maximum is 40.
We are unable to add this page to your binder, please try again later.
This page has been added to your binder.
Richard D. Kruger
Associate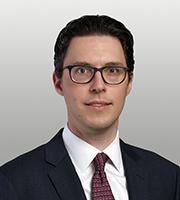 Richard Kruger is a member of the firm's corporate practice group and is resident in our New York office.
Representation of the sponsor in connection with the formation of a $400 million buyout fund focused on small and middle-market companies across a select group of industries that was structured as a series LLC.
Representation of the sponsor in connection with the formation of separate account partnerships that invest alongside sponsor's funds.
Representation of a fund-of-funds sponsor in connection with the secondary purchase of a portfolio of fund interests from a public pension plan.
Representation of the investment adviser of a fund with respect to its secondary investments in multiple hedge fund side-pocket interests.
Advised UCB S.A. in the acquisition of a majority interest in Meizler Biopharma, S.A., a Brazilian pharmaceutical company.
Represented Snow Phipps Group in its acquisition of Service Champ, Inc.
Represented The Goodyear Tire & Rubber Company in a €250 million offering of senior notes due 2019 by one of its European subsidiaries, a $500.0 million offering of mandatory convertible preferred stock and a $650.0 million registered exchange offer of senior notes due 2020 for senior notes due 2011.
Represented Moelis & Company as financial advisor to Amgen, in its acquisition of Micromet, Inc.
Represented Perella Weinberg Partners as financial advisor to the special committee of J.Crew in its sale to TPC and Leonard Green Partners.
Represented Foros Securities LLC as financial advisor to the special committee of Interactive Data Corporation in its sale to Silver Lake Partners and Warburg Pincus LLC for $3.4 billion.
Represented Gleacher & Company as financial advisor to CKx, Inc., in its acquisition by an affiliate of Apollo Global Management.
Represented BofA Merrill Lynch, financial adviser to TomoTherapy Incorporated, in its sale to Accuray Incorporated for $277 million.
Represented Medarex in its $2.4 billion merger with Bristol-Myers Squibb.
Advised Trustmark on its sale of preferred stock and warrants to the U.S. Treasury as part of the Treasury Department's Capital Purchase Program.
Memberships and Affiliations
New York City Bar, Member
Rockstar Games (2001-2005)
New York Super Lawyers, Business/Corporate "Rising Star" (2013)
Education
New York University School of Law, J.D., 2008
cum laude
NYU Journal of Law & Business, Managing Editor
Wesleyan University, B.A., 1999