Our Website Uses Cookies
We and the third parties that provide content, functionality, or business services on our website may use cookies to collect information about your browsing activities in order to provide you with more relevant content and promotional materials, on and off the website, and help us understand your interests and improve the website.
For more information, please contact us or consult our Privacy Notice.
Your binder contains too many pages, the maximum is 40.
We are unable to add this page to your binder, please try again later.
This page has been added to your binder.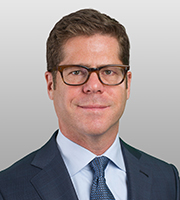 Mitch Kamin is Co-Chair of the firm's Commercial Litigation Practice Group, and represents global media, entertainment and other large companies in complex disputes. He excels at the prompt resolution of claims, often through negotiation or early motion practice, and has extensive trial experience for matters in which litigation is the only option.
Mr. Kamin focuses on civil litigation involving copyright and trademark, commercial disputes, class actions and business torts. He has particular experience with disputes related to content creation and distribution, representing leaders in the entertainment industry -- including major companies in film, television, music and gaming. He has tried cases in state and federal courts, and also successfully handled many government investigations and enforcement actions.
Civil Litigation
Lead counsel for Fox News Networks in Fox News Network LLC v. Charter Communications Holding Co. LLC et al., 653777/2016 (N.Y. Supreme Court), alleging that Charter applied incorrect carriage rates for all systems following its acquisition of Time Warner Cable.
Successfully defended 20th Century Fox Film Corporation and Chernin Entertainment in a federal copyright infringement lawsuit filed in the Central District of California. After extensive litigation, the case settled, with a complete walkaway and limit on future suits.
Obtained summary judgment for Sony Music Entertainment and dismissal of all contract and intellectual property claims brought by former music manager regarding 70's rock act.
Represented international video game publisher in copyright infringement claims by major record labels and publishing companies regarding licensing of sound recordings and compositions. Successfully resolved all claims without litigation.
Obtained summary judgment for Chinese pharmaceutical client whom a competitor had sued for trademark infringement. Covington was engaged after the plaintiff had obtained a TRO prohibiting his client from using its name and logo. Following targeted discovery and an early motion for summary judgment, the court dismissed all of the competitor's causes of action and invalidated the competitor's mark. Farmasino Inc. v. Farmasino Pharmaceuticals (Jiangsu) Co., Ltd et. al. (C.D. CA).

Represented Azusa Pacific University in a variety of matters, including a civil suit against a former asset manager who misused his position and violated his fiduciary duties to the university. Achieved favorable settlement including repayment of improperly obtained funds.
Defended jury consulting firm against international insurance company alleging billing fraud over fifteen year professional relationship. Successfully resolved civil lawsuit and secured non-prosecution of related federal criminal investigation.
Represented leading international health care provider in various matters, including federal lawsuit alleging violations of the False Claims Act.
Represented film production company in a number of matters, including a professional negligence case against the business manager, who woefully mishandled finances and taxes for the company's principals. Achieved a significant settlement quietly and efficiently without ever filing the case.
Represented ballot initiative sponsors in a high-profile First Amendment case in the U.S. Court of Appeals for the Ninth Circuit, which upheld the district court order refusing to enjoin Measure B, a Los Angeles County ballot initiative passed by voters in 2012 that aims to prevent the spread of sexually transmitted diseases.
Successfully moved a residential real estate transaction case from court to arbitration after a pre-emptive suit from the plaintiff and prevailed on all claims, including breach of contract and fraud, at arbitration. Notwithstanding adversary's claim that a liquidated damages provision limited recovery, obtained an award more than three times the amount of the provision, as well as punitive damages for fraud.
White Collar
Represented airbag manufacturer Takata Corporation in connection with criminal investigation by U.S. Department of Justice that resulted in the company's February 27, 2017 guilty plea to one count of wire fraud.
Represented dozens of executives and employees of a Fortune 500 technology company under investigation for potential violations of the U.S. Foreign Corrupt Practices Act. Coordinated three parallel investigations by the U.S. Department of Justice, the U.S. Securities and Exchange Commission, and the company's audit committee. Also represented senior executives from other companies in similar investigations.
Conducted an internal investigation and persuaded the Department of Justice to decline prosecution of an international gaming company for alleged violations of the Federal Wire Act.
Represented at trial numerous individuals charged with serious crimes and offenses in New York state courts. Representative work includes a three-week jury trial that incorporated novel litigation around the use of experts in eyewitness identification and another jury trial in which acquittal was achieved for an elderly foster mother.
Represented Los Angeles-based garment company in federal money laundering case stemming from multi-jurisdiction investigation of Los Angeles garment district.
Advisory Work
Mr. Kamin regularly advises clients on risk avoidance and preservation of rights in the face of brewing commercial disputes. He also worked with companies concerned with regulatory and law enforcement implications of local, national and international business initiatives.
Managed the legal aspects of the national and international introduction of gaming and social gaming products for an S&P 500 company. Assessed legality of products in the U.S. and abroad, which included analysis of federal law, such as the Wire Act, as well as various regulatory authorities in U.S. states and other countries.
Counseled European cable network on legal issues arising from deals with domestic movie studios, enabling it to protect its rights and avoid litigation.
Public Interest, Pro Bono and Policy Work
From 2003-2010, Mr. Kamin was President & CEO of Bet Tzedek Legal Services, one of the largest and most successful legal services non-profits in the United States, where he designed and led many significant policy initiatives and oversaw a team of more than forty full time attorneys. In 2010, Mayor Antonio Villaraigosa appointed Mr. Kamin to chair the Housing Authority of the City of Los Angeles, which provided housing to thousands of low-income families with a budget of approximately $1 billion. Building upon this and other experience working with policymakers, he often advises clients confronting litigation and regulatory challenges at multiple levels, providing effective and simultaneous assistance in local, federal and international jurisdictions.
Following pro bono trial in U.S. District Court in Baton Rouge, obtained declaratory and injunctive relief for three Death Row inmates at the Louisiana State Penitentiary at Angola. Court found that excessive summer heat conditions in confinement on Angola's death row constituted cruel and unusual punishment in violation of the Eighth Amendment to the U.S. Constitution.
Achieved an unprecedented settlement—on the eve of trial—in a federal civil rights lawsuit against the city of Orange, California and Orange County concerning the 19-year wrongful imprisonment of Dewayne McKinney for a crime he did not commit.
Filed amicus briefs in significant California and U.S. Filed amicus briefs in significant California and United States Supreme Court cases, including two that represented the interests of indigent Holocaust survivors: Republic of Austria v. Altmann, 541 U.S. 677 (2004) and American Insurance Association v. Garamendi, 539 U.S. 396 (2003).

Memberships and Affiliations
Los Angeles Homeless Services Authority, Board of Commissioners
One Justice, Board of Directors (2014-present)
Jewish Federation of Los Angeles – New Leaders Project, Co-Leader (2014)
UCLA Younes and Soraya Nazarian Center for Israel Studies, Board of Directors (2013-present)
Housing Authority of the City of Los Angeles, Chairman, Board of Commissioners (2011-2012)
Attorney General Kamala Harris, Transition Team, Civil Rights Enforcement (2011)
Liberty Hill Foundation, Board of Directors (2008-2011)
Bet Tzedek Legal Services, President & CEO
United States Court of Appeals for the Second Circuit, Staff Attorney
Los Angeles Business Journal, "Most Influential Intellectual Property Attorneys" (2017)
Rose L. Schiff Commitment to Justice Award (2014)
JFSJ/PJA, Living the Legacy Award (2011)
Top 100 Lawyers in California (2005-2006, 2008)
Southern California Super Lawyer (2007-2016)
Education
Harvard Law School, J.D., 1993
University of California at Berkeley, B.A., 1989
with highest honors
Phi Beta Kappa