Chang Sik (Charles) Kim
Of Counsel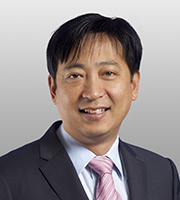 Dr. Chang Sik Kim practices in all areas of intellectual property law, including patent litigation, patent prosecution, IP risk management, IP portfolio management, licensing and client counseling. He has successfully argued before the Board of Patent Appeals and Interferences at the United States of Patent and Trademark Office and has also practiced before the United States International Trade Commission.
Working across numerous technological areas, Dr. Kim has legal experience involving LCD display, touch screen technology, refrigerators, fluorescent light conversion materials, LED technology, OLED technology, battery technology, lithography, TV signal processing technology, antenna, cell phones, lasers, steel alloy, silicon production process, green energy production, titanium alloy, antihistamine, a and ß blockers, generic drug, drug formulation nanotechnology and crystallography.
Dr. Kim also worked as a judicial intern in the United States District Court for the District of New Jersey in Newark, where he was extensively involved in a pharmaceutical ANDA patent litigation relating to the antihistamine drug Claritin.
Dr. Kim is currently teaching at Seoul National University Law School as an adjunct professor (2013-present) and also serving as a member in a special committee of Korea Department of Justice (2013-present).
Dr. Kim is fluent in Korean.