Our Website Uses Cookies
We and the third parties that provide content, functionality, or business services on our website may use cookies to collect information about your browsing activities in order to provide you with more relevant content and promotional materials, on and off the website, and help us understand your interests and improve the website.
For more information, please contact us or consult our Privacy Notice.
Your binder contains too many pages, the maximum is 40.
We are unable to add this page to your binder, please try again later.
This page has been added to your binder.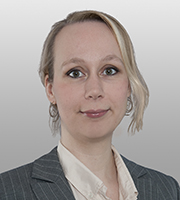 Kim-Simone Janutta advises clients in all areas of European and German Competition law, including cartel investigations, self-assessment of undertakings, compliance, state aid and regulatory issues.
Her practice focuses on the transport sector, in particular blue water carriage and civil aviation. In addition, Ms. Janutta has a broad experience in compliance in the defence sector.
Ms. Janutta has acted before the EU Commission, the Court of Justice of the EU and German courts, including Federal courts.
Access to infrastructure, state aid and abuse of market power in the railway sector.
Airfreight – Case COMP/39258
Advising clients on the development of legislation & EU Commission's decision practice re. e.g. IATA cargo and passenger tariff and alliances.
Advising clients from the maritime sector in various projects and questions involving e.g. car carriage, bulk and liner shipping, the repeal of the liner block exemption.
Complaint against allegedly illegal state aid in computer chip production.
Advising clients on vertical agreements in the advertising sector and automotive sector.
Recovery of state aid in the context of company succession.
EU enlargement-related cases before the Croatian Competition Agency.
Constitutional complaints - human rights law involving refugees from inter alia Syria, Turkey, Azerbaijan and Georgian Republic including cases before the German Federal Constitutional Court, Federal Administrative Court and the Court of Justice of the EU.
Atlas Elektronik GmbH/Atlas Group, Compliance Counsel (2012-2015)