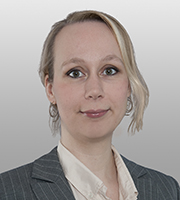 Kim-Simone Janutta advises clients in all areas of European and German Competition law, including cartel investigations, self-assessment of undertakings, compliance, state aid and regulatory issues.
Her practice focuses on the transport sector, in particular blue water carriage and civil aviation. In addition, Ms. Janutta has a broad experience in compliance in the defence sector.
Ms. Janutta has acted before the EU Commission, the Court of Justice of the EU and German courts, including Federal courts.