Our Website Uses Cookies
We and the third parties that provide content, functionality, or business services on our website may use cookies to collect information about your browsing activities in order to provide you with more relevant content and promotional materials, on and off the website, and help us understand your interests and improve the website.
For more information, please contact us or consult our Privacy Notice.
Your binder contains too many pages, the maximum is 40.
We are unable to add this page to your binder, please try again later.
This page has been added to your binder.
Robert P. Haney Jr.
Partner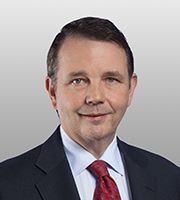 Robert Haney is a partner in the New York office with 30 years of experience litigating complex commercial disputes including conducting arbitrations, jury trials, bench trials, and mediations for major corporations as well as small and mid-sized biotech, financial, and technology firms. He has participated and advised with respect to employment law issues in numerous internal investigations including recent high profile investigations where he advised on employment contract issues involving CEO's and other senior executives. While experienced in the full range of business and financial disputes, Mr. Haney has particular proficiency conducting arbitrations and trials involving the departure of senior executives and partners, trade secrets and securities and consumer class actions.
Significant Litigated Matters
Represented Illumina, Inc. and several officers and former officers in obtaining dismissal of all claims in Zirvi, et. Al. V Flatley, et. al. Judge Koeltl (SDNY) dismissed all claims against defendants based on the statute of limitations, failure to adequately plead trade secrets as well as other grounds.
In an opinion from Chief Judge Stark (D.Del 2018), obtaining summary judgment for the plaintiffs in First Wave et al. v Lycera and establishing plaintiffs ownership of patents that defendant alleged were based on trade secrets stolen by former employees who joined First Wave.
Representing the co-founder of a major private equity firm in obtaining a settlement of his lawsuit and derivative action alleging breach of fiduciary duties and breach of contract in Delaware Chancery Court. The action was settled on the first day of trial after accelerated discovery and the settlement allowed Covington's client to regain control of the business he had founded.
Defending the Board and offices of Linear Technology Corp. in six derivative actions related to the Company's stock option granting practices over a 10 year period.
In Milex v. Pitney Bowes, a class represented by Milberg Weiss alleged claims under New York's consumer protection statutes as well as common law claims related to PBCC's practice of collecting "last lease payments" at the inception of the business equipment leases. The class argued that "last lease payments" were effectively deposits and that PBCC used the "last lease payment" mechanism to avoid holding the deposits in a separate account and paying interest. After extensive briefing, we defeated national class certification and the case was ultimately settled for less than $250,000 including legal fees for class counsel.
Representing one of the world's leading private equity firms in pursuing legal malpractice claims against a major law firm.
Trials
In Flatiron v Carson (January 2020), Mr. Haney led the Covington team through trial and post-trial proceedings, obtaining an injunction prohibiting a senior Flatiron data scientist from participating in a wide range of potentially-competitive activities for a subsequent employer for the entire term of the non-compete agreement.
In MECH v. Ledgemont et al., Mr. Haney succeeded on behalf of the firm's client in regaining control of an investment fund and then conducted a three day trial in Delaware Chancery Court against Ledgemont and its principals to recover $3 million in allegedly misappropriated funds. Following trial the client obtained settlement payments from the estates in bankruptcy or several defendants. Following trial the client obtained settlement payments from the estates in bankruptcy or several defendants.
In Triflo v. Lapeyre, Mr. Haney represented the terminated CEO of a medical technology firm, who invented the Company's technology, in a complex dispute involving ownership of intellectual property, trade secrets and ownership of company stock. Mr. Haney defeated all of the Company's claims for damages and obtained a multimillion dollar jury verdict after a three week trial in Federal Court in Orange County, California, on the counterclaims asserted by our client based on claims of breach of a technology license agreement.
In Hirsch v. Jackoway Tyerman, he represented Jackoway Tyerman, one of the nation's leading entertainment law firms, and several members of its Board of Directors in a seven-week trial in Los Angeles. After Covington obtained dismissal of the dissolution claim, the plaintiffs amended their complaint to seek millions of dollars in damages for breach of fiduciary duty, alleging, among other things, that they had been unfairly forced to leave the firm. The court rejected most of the plaintiffs' remaining claims against our client, including their core claim to have been forced out of the firm. The court also found that the departed partners were entitled to future fee payments from clients who had left Jackoway Tyerman with them.
In Wilmington Trust v. Calpine Corporation, Mr. Haney represented Calpine in a major trial in Delaware Chancery Court concerning interpretation of a bond indenture covenant, and an appeal to the Delaware Supreme Court.
In Madison Avenue Investment Partners v. America First Real Estate Investors Partners L.P., he represented America First in defeating at trial the bulk of the plaintiff's information demands in a Delaware books and record action.
In Leo v. Milbank Tweed Hadly & McCloy, he represented the purchaser of a Swiss bank in obtaining a $3.2 million jury verdict in Federal Court in Manhattan for breach of fiduciary duty against one of the nation's leading law firms.
In Zissu v. Bear, Sterns & Co., et al., he represented Bear Stearns in defeating securities fraud claims in a three week Federal jury trial in Manhattan. Mr. Haney second chaired this trial but argued all of the post-trial motions, and successfully argued that Bear Sterns should receive its attorneys' fees for the entire case.
Arbitrations
In an ICC arbitration, Mr. Haney obtained a $20 million settlement at the conclusion of the hearing for his client, the former vice chair of a major investment bank, who had asserted partnership and contractual claims.
For Interworld Corp., he defeated the bulk of the plaintiff's employment claims.
For Creditex, he obtained enforcement of employee non-competition agreements in two separate FINRA arbitrations.
For Meridian Capital Group LLC, he represented Meridian in a complex employment and partnership dispute with a departed employee.
For UBS, Mr. Haney defeated $20 million in claims by two former senior brokers in a 26 session FINRA arbitration.
In an AAA arbitration, Mr. Haney represented one of the world's largest banks in a dispute with a major retailer concerning a co-branded credit card agreement and obtained a very favorable settlement.
Memberships and Affiliations
Association of the Bar of the City of New York, Labor and Employment Law Committee
ABA Committee on Employment Law
International Bar Association, International Arbitration Committee
Best Lawyers in America (2017-2020)
New York Super Lawyers (2014-2020)