Our Website Uses Cookies
We and the third parties that provide content, functionality, or business services on our website may use cookies to collect information about your browsing activities in order to provide you with more relevant content and promotional materials, on and off the website, and help us understand your interests and improve the website.
For more information, please contact us or consult our Privacy Notice.
Your binder contains too many pages, the maximum is 40.
We are unable to add this page to your binder, please try again later.
This page has been added to your binder.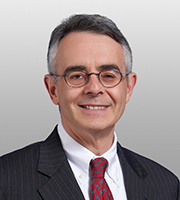 Richard Hertling provides regulatory and legislative advice and guidance and lobbying to a diverse set of clients in a range of industries. He joined the firm after more than 27 years of federal government service that included senior positions in both Houses of Congress and the Justice Department, during which he was respected for developing strategic and tactical approaches to advance legislation. He brings those same skills to bear for clients with complex policy challenges.

While holding senior positions on Capitol Hill and at the Department of Justice, Mr. Hertling handled intellectual property (including patents, copyrights, music licensing, and trade secrets), technology policy, cybersecurity, taxation, antitrust, immigration, communications, administrative and regulatory law and procedure, civil justice reform, and criminal justice issues. He led numerous oversight efforts, both as an investigator in Congress and in responding to oversight requests when at the Justice Department. He also played a key staff role in the drafting and enactment of dozens of significant laws.
Specifically, Mr. Hertling served as staff director and chief counsel of the House Judiciary Committee, minority staff director of the Senate Governmental Affairs Committee, and as chief of staff to former Senator Peter Fitzgerald (R-IL). At the Justice Department, he served as acting assistant attorney general for legislative affairs and as principal deputy assistant attorney general for legal policy. Mr. Hertling also advised the presidential campaign of former Senator Fred Thompson on domestic and legal policy during the 2008 election cycle. The combination of his experiences enables him to bring to any policy challenge the perspective of both the policy-maker and the lawyer.
Represented the Protect Trade Secrets Coalition in securing the enactment of legislation to establish a federal civil remedy for misappropriation of trade secrets and testified before the House Judiciary Committee. The legislation was passed unanimously by the Senate and overwhelmingly by the House of Representatives and was signed into law in May 2016.
Represented the American Council on Education in securing the enactment in August 2015 of legislation to renew and extend an expiring antitrust exemption permitting a selected group of colleges to collaborate on issues involving need-based aid.
Advises and represents a major global technology company on issues, including immigration, antitrust, intellectual property, and surveillance and encryption issues.
Advises and represents the National Association of Broadcasters on intellectual property and broadcast-related issues within the jurisdiction of the Judiciary Committees of both houses of Congress.
Represents a global technology firm on procurement policy and related issues.
Represents a financing firm on the reauthorization of the investor visa program.
Represents post-secondary educational institutions on immigration-related issues.
Advises several industry trade associations on issues within the jurisdiction of the Judiciary Committees of both houses of Congress.
Represented a bio-pharmaceutical firm on legislative and regulatory issues, including advocacy on the Comprehensive Addiction and Recovery Act of 2016 relating to combatting the opioid epidemic.
Assists a Fortune 100 corporation in analyzing legislative and regulatory proposals of interest to the corporation and in drafting the corporation's own legislative and regulatory proposals and supporting materials.
Provided strategic legislative advice to three companies in conjunction with proposed high-profile mergers that attracted congressional attention.

Memberships and Affiliations
U.S. Co-Chair of the Trans-Atlantic Business Council's Intellectual Property Working Group
Chief Counsel, Senator Arlen Specter (R-PA)
Chief of Staff, Senator Peter G. Fitzgerald (R-IL)
Minority Staff Director, Senate Committee on Governmental Affairs
Legislative Director and Deputy Chief of Staff, Senator Lamar Alexander (R-TN)
Principal Deputy Assistant Attorney General, Office of Legal Policy, U.S. Department of Justice
Acting Assistant Attorney General, Office of Legislative Affairs, U.S. Department of Justice
Staff Director and Chief Counsel, House Committee on the Judiciary
Attorney General's Distinguished Service Award
Legal 500 US, Intellectual Property - Trade Secrets (2017) and Telecoms and Broadcast: Regulatory and Transactional (2014)