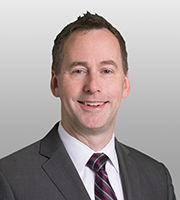 Kurt Hamrock has over 20 years of experience as a trial and appellate litigator. He represents corporate clients in complex product liability matters and regulatory litigation. Mr. Hamrock has particular experience in representing government contractors that provide products and services in support of military and contingency operations. This experience includes the successful assertion of specialized federal doctrines such as federal officer removal, the political question doctrine, derivative sovereign immunity, the act of state doctrine, combatant activities preemption, and the government contractor defense.
In addition to his product liability work, Mr. Hamrock is deeply involved in a wide variety of government contract litigation and counseling, including representation of clients in government investigations and congressional inquiries, client claims against the government, the protection of client proprietary data, and bid protest work. Additionally, Mr. Hamrock counsels clients on a broad range of topics to assist them in mitigating risk and avoiding litigation.
Mr. Hamrock also has considerable expertise in successfully representing defendants in complex litigation, including multidistrict litigation and class actions. For example, he served as a case manager in the "fen-phen" diet drug litigation and was responsible for coordinating the discovery phase in multidistrict federal proceedings and overseeing the actions of local counsel in thousands of state court actions. He also defeated class certification and successfully resolved a lawsuit against a manufacturer of military radar systems by potentially thousands of plaintiffs.
At the appellate level, Mr. Hamrock has participated in the drafting of both principal and amicus curiae briefs, as well as petitions for certiorari, before the Supreme Court of the United States. He has appeared and argued before many federal Courts of Appeals in cases involving a broad range of subject matters, including the Administrative Procedure Act, the Federal Tort Claims Act, the Lanham Act, and the Civil Rights Act of 1964.