Our Website Uses Cookies
We and the third parties that provide content, functionality, or business services on our website may use cookies to collect information about your browsing activities in order to provide you with more relevant content and promotional materials, on and off the website, and help us understand your interests and improve the website.
For more information, please contact us or consult our Privacy Notice.
Your binder contains too many pages, the maximum is 40.
We are unable to add this page to your binder, please try again later.
This page has been added to your binder.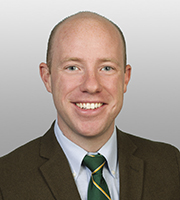 Christopher Hanson advises international and domestic clients on regulatory strategies and compliance for medical devices, pharmaceuticals, biological products, cosmetics, animal products, and radiation-emitting electronic products. His broad range of clients include large multinational companies, venture capital firms, industry associations, clinical laboratories, and development-stage companies.
Mr. Hanson has extensive experience counseling clients on interactions with state, federal, and foreign regulatory agencies, including the Food and Drug Administration (FDA), the Drug Enforcement Administration (DEA), the Federal Trade Commission (FTC), the Centers for Medicare and Medicaid Services (CMS), the Substance Abuse and Mental Health Services Administration (SAMHSA), and the National Institute for Health and Care Excellence (NICE).
Mr. Hanson regularly assists clients with drafting state, federal, and foreign legislation as well as preparing public comments for agency rulemakings, guidance documents, and advisory committees. He provides strategic advice and regulatory due diligence to support corporate transactions and securities filings. He also has experience advising in enforcement matters and conducting global internal investigations and audits of the firm's life science clients in the United States, Asia, Australia, Europe, and Latin America.
Mr. Hanson is an active firm member having served as Vice Chair of the Summer Associate Program (2015, 2016) in the Washington, DC office. Additionally, he pursues extensive pro bono work related to the lesbian, gay, bisexual, and transgender (LGBT+) community and speaks across the country on issues of LGBT+ diversity and inclusion in the legal community.
He is a graduate of Northwestern University School of Law, where he was elected to the Order of the Coif and graduated in two years. He holds a Masters of Divinity degree from Harvard University, where he was a Presidential Scholar, and an honors undergraduate degree from Yale University. Mr. Hanson previously served as the Chairperson of the Harvard Divinity School Alumni/ae Council.
Advised global healthcare company GSK on FDA and CLIA regulatory components of the company's $300 million equity investment and collaboration with genetic testing and data science company 23andMe -- a collaboration focused on R&D of new medicines, using human genetics as the basis for discovery.
Represent industry association in submitting Congressional Discussion Draft public comments concerning diagnostic tests.
Prepare industry association public comments concerning the content of risk information in the major statement in DTC prescription drug broadcast advertisements.
Co-draft legislation successfully signed into law in California and New Jersey concerning the regulation of state clinical laboratories.
Conduct large-scale, internal assessment of multinational pharmaceutical company's manufacturing division.
Prepare public comments and Congressional strategy on behalf of an industry association regarding medical device and radiation-emitting electronic product proposed rulemakings.
Draft Congressional white paper and request for a hearing in response to FDA's Notice of Opportunity for Hearing (NOOH), proposing to withdraw approval of certain new animal drug applications (NADAs).
Draft response to an FDA "It Has Come to Our Attention" (IHCTOA) letter concerning a diagnostic product and prepare FDA Pre-Submission (Pre-Sub) materials.
Provide FDA regulatory diligence to client for $575 million acquisition of a branded respiratory portfolio.
Provide FDA regulatory diligence to client for $1.7 billion acquisition of a clinical-stage biopharmaceutical company.
Advise underwriters in $175 million follow-on public offering of common stock by molecular diagnostics company.
Represent top global pharmaceutical company in internal review of procedures and policies concerning investigator-initiated trials (IITs).
Represent client in internal review of procedures and policies concerning cosmetic product labeling.
Represent industry association in preparing FDA and IOM public comments responding to various draft guidance or study documents concerning clinical trial informed consent, electronic submission of data, clinical trial data sharing, and the use of the Internet/social media.
Write white papers for clients on proposed legislation involving pharmaceutical and medical device regulation in foreign jurisdictions, including Canada and India.
Advise industry association regarding FDA regulatory aspects of 21st Century Cures Act.
Represent Federally Qualified Health Center (FQHC) in preparing FDA public comments concerning agency blood donation guidelines.
Represent LGBT organization in litigation involving transgender military service members.
Successfully represent Latin American immigrant in U visa application.
Represent LGBT organization in preparation for potential election referendum on state transgender rights law.
Advise transgender individuals on legal name and gender change procedures in Maryland, Virginia, and Washington, DC.
Represent federal inmate in seeking a Presidential clemency grant.
Conduct survey of state Medicaid and prescriptive authority law for health care non-profit.
Memberships and Affiliations
Medical Device Law Committee of the American Bar Association's Section of Science & Technology Law (Co-Chair)
Harvard University, Divinity School Alumni/ae Council (Chairperson, 2016-2017) and Divinity School Bicentennial Host Committee (Co-Chair)
Yale College, Class of 2005 Reunion Chair and Association of Yale Alumni (AYA) Class Representative
Point Foundation, Wells Fargo Scholar and Mentorship Committee (former)
United States Senate, Constituent Services (2008-2010)
Harvard University, Harvard Humanitarian Initiative Instructor (2008)
Yale University, Assistant Director of Undergraduate Admissions (2005-2007)