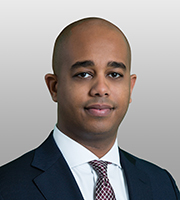 Worku Gachou is a policy advisor in Covington's Public Policy practice. Mr. Gachou, a non-lawyer, provides strategic political and economic consulting, risk management, and other advisory services for clients in the United States and Africa.
Before joining the firm, Mr. Gachou was majority staff lead for Africa issues in the U.S. House of Representatives. In this role, he was responsible for the drafting and enactment of several landmark pieces of legislation impacting the continent, including the Electrify Africa Act, the END Wildlife Trafficking Act, and the reauthorization of the African Growth and Opportunity Act.
Additionally, while directing the African affairs portfolio for the House Committee on Foreign Affairs, Mr. Gachou was responsible for oversight of all African programs initiated by the National Security Council in the White House, the U.S. Department of State, and other executive branch agencies. He was the primary congressional point of contact for foreign governments, policy and research institutions, trade associations, and lobbying firms that had interests in U.S. - Africa policy.

Mr. Gachou's past professional experiences include roles in the Office of Legislative Affairs at the U.S. Department of Justice and Alcatel-Lucent's government affairs division. He holds a master's degree from Georgetown University with a concentration in International Affairs and received his bachelor's degree from DePaul University.