Our Website Uses Cookies
We and the third parties that provide content, functionality, or business services on our website may use cookies to collect information about your browsing activities in order to provide you with more relevant content and promotional materials, on and off the website, and help us understand your interests and improve the website.
For more information, please contact us or consult our Privacy Notice.
Your binder contains too many pages, the maximum is 40.
We are unable to add this page to your binder, please try again later.
This page has been added to your binder.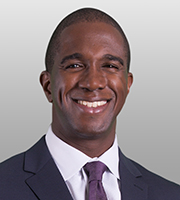 Keir Gumbs is a partner in Washington, DC and vice chair of the Securities and Capital Markets Practice Group. Before Covington, Mr. Gumbs spent six years at the SEC where he held numerous positions, including as counsel to an SEC Commissioner. Mr. Gumbs is recognized as a leading authority on securities regulation and corporate governance who represents a cross-section of constituencies, including Fortune 500 companies, venture-backed firms, public pension funds, hedge funds, faith-based investors and trade associations.
At Covington, Mr. Gumbs' practice is equally distributed into the following three categories:
Advising companies, investors and regulated entities with respect to ongoing securities regulatory compliance - including preparing SEC filings, as well as compliance with FINRA, national stock exchange, Dodd-Frank and Sarbanes-Oxley requirements.
Advising boards and investors with respect to corporate governance developments - regarding matters such as board and committee independence, cybersecurity, internal controls, shareholder proposals, proxy access, enhancing political spending disclosures and similar matters.
Advising companies and investors on a variety of transactional matters, including securities offerings, crowdfunding, IPOs, mergers, tender offers, share repurchase programs and similar matters.
Advises Fortune 500 companies with respect to SEC periodic reports; proxy statements; beneficial ownership reports; committee charters; board and committee meeting calendars; codes of ethics; corporate governance guidelines; disclosure controls and procedures; internal control over financial reporting; CEO/CFO certifications under the Sarbanes-Oxley Act and related matters.
Regularly assists clients with respect to transactional matters, including initial public offerings, spin-offs, tender offers, mergers and acquisitions, share repurchase programs and stock buybacks, debt exchange offers, and similar matters.
Counsels clients on preparing for and responding to cyber-based attacks from a disclosure, corporate governance and internal controls perspective. Has served as the lead disclosure and governance lawyer for multiple complex cyber and data security incidents, including data security breach matters involving millions of affected consumers, advanced persistent threats targeting intellectual property across industries, state-sponsored theft of sensitive U.S. government information, and destructive attacks.
Part of a FinTech initiative at Covington. Represents marketplace lenders in ongoing capital markets, securities disclosure and reporting matters.
Advises large-, mid- and small-cap companies, as well as public pension funds, faith-based organizations and activist investors, on a range of corporate governance matters, with a focus on shareholder proposals and other forms of shareholder activism.
Memberships and Affiliations
Board Member, The Society of Corporate Secretaries and Governance Professionals
National Investor Relations Institute
Board of Advisers, Institute for Law and Economics at the University of Pennsylvania Law School
U.S. Securities and Exchange Commission, Counsel to Commissioner Roel C. Campos (2004-2005)
U.S. Securities and Exchange Commission, Division of Corporation Finance, Office of Chief Counsel, Special Counsel (2001-2004)
U.S. Securities and Exchange Commission, Division of Corporation Finance, Attorney-Adviser (1999-2001)

Chambers USA - America's Leading Business Lawyers, Securities: Regulation: Advisory (2012-2018)
Legal 500 US, Finance - Capital Markets (2017)
Savoy Magazine, "Most Influential Black Lawyers" (2015)
Whos Who Legal, Corporate – M&A and Governance (2015-2017)
National Law Journal, "D.C. Rising Star" (2014)
Washington DC Super Lawyers, Securities & Corporate Finance (2014-2018)
Selected as one of the "Trailblazers Under 40" by the National Bar Association (2014)
Named a "2011 Rising Star of Corporate Governance" by the Millstein Center for Corporate Governance and Performance at the Yale School of Management
Selected as one of the "People to Watch" in the National Association of Corporate Directors 2011 and 2012 "Directorship 100," a list of the most influential people in corporate governance and the boardroom.