Kathleen T. Gallagher-Duff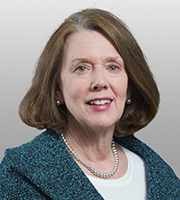 Kathleen T. Gallagher-Duff is of counsel in the intellectual property group, specializing in trademark and Internet-related matters.
Ms. Gallagher-Duff counsels U.S. and foreign clients in the development, protection, and enforcement of trademarks and other intellectual property assets. She manages trademark portfolios worldwide for an array of clients, including the National Geographic Society, Public Broadcasting Service, and the International Paralympic Committee.
Ms. Gallagher-Duff advises clients on a broad range of trademark and domain name matters, including dilution, rights of publicity, and Internet monitoring. In addition to her counseling practice, Ms. Gallagher-Duff represents clients in administrative litigation before the Trademark Trial and Appeal Board of the U.S. Patent and Trademark Office and supervises and manages foreign trademark prosecution matters and litigation.
Ms. Gallagher-Duff has extensive experience in structuring, drafting and negotiating complex trademark license agreements for leading clients in the entertainment, media, sports, and spirits industries. She conducts and coordinates intellectual property due diligence reviews in connection with world-wide brand acquisitions, corporate financing, and other corporate transactions.
Ms. Gallagher-Duff represents clients in a broad range of industries, including media, entertainment, sports, food manufacturing, spirits and pharmaceuticals.