Our Website Uses Cookies
We and the third parties that provide content, functionality, or business services on our website may use cookies to collect information about your browsing activities in order to provide you with more relevant content and promotional materials, on and off the website, and help us understand your interests and improve the website.
For more information, please contact us or consult our Privacy Notice.
Your binder contains too many pages, the maximum is 40.
We are unable to add this page to your binder, please try again later.
This page has been added to your binder.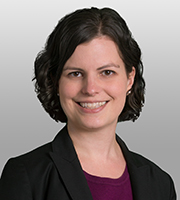 Kate Goodloe helps clients navigate a broad range of privacy, cybersecurity, technology and communications issues.
Ms. Goodloe represents clients in privacy-related litigation, enforcement actions, and government investigations, in addition to proactively counseling clients on regulatory and compliance issues. Ms. Goodloe has particular experience advising technology clients on laws regulating the collection, use, and sharing of data, including electronic surveillance laws, and in litigating these issues. Prior to becoming a lawyer, Ms. Goodloe worked as a newspaper reporter.
Represents Microsoft Corporation in litigation challenging a U.S. search warrant seeking customer emails stored in Ireland. See In the Matter of a Warrant to Search a Certain E-Mail Account Controlled and Maintained by Microsoft Corporation, No. 14-2985-cv (2d Cir. July 14, 2016).
Represents an NFL football team in a putative class action alleging violation of the Wiretap Act based on the allegation that team's mobile device app records private conversations.
Represents Microsoft Corporation in constitutional challenge to a statute that allows courts to forbid technology companies from telling their customers about legal orders for their data under the Electronic Communications Privacy Act (ECPA). See Microsoft Corporation v. United States Department of Justice, No. 2:16-cv-00538-JLR (W.D. Wash.).
Advises a range of global companies on data collection, use, and disclosure practices, including privacy-by-design strategies, focusing on the potential impact of privacy-related laws on the launch of new products and services.
Assists clients in investigations by the Federal Trade Commission, the U.S. Congress, and other federal and state regulators, as well as in strategic engagements with such authorities.
Advises technology companies on compliance with legal process, including in connection with surveillance requests from law enforcement agencies.
Advises clients in financial services industry on potential impact of new cybersecurity regulatory proposals by federal banking agencies and by state regulators.
Counsels clients on automatic subscription renewal issues for both online and offline services, including compliance with federal and state laws and best practices.
Assists clients in drafting privacy policies and terms of use for their websites, mobile applications, and other services.
Successful representation of health care industry services provider in investigation by the Department of Justice.
Successful representation of major pharmaceutical company in contract-related litigation.
Advises broadcast, print, and online journalists about newsgathering issues including defamation, privacy, and copyright matters.
Serving as court-appointed amicus to D.C. Court of Appeals in a case involving appeal of a neglect finding.
Representation of criminal defendant charged with assault, culminating in three-day trial.
Representation of defendant in Maryland and District of Columbia in sentencing proceedings.
The Wall Street Journal, Reporter (2006-2007)
Milwaukee Journal Sentinel, Reporter (2005-2006)
The Dallas Morning News, Reporter (2004-2005)

Key Takeaways: DOJ Releases White Paper on CLOUD Act
On April 10, 2019, the U.S. Department of Justice released a white paper and FAQ on the CLOUD Act.
Read More
Education
New York University School of Law, J.D., 2011
cum laude
Robert McKay Scholar
New York University Review of Law & Social Change, Senior Articles Editor
University of Missouri, B.J., 2004