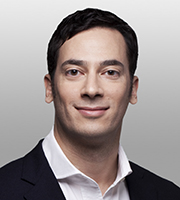 Jason Goldberg is a partner in the firm's Shanghai and Beijing offices, and the chair of the firm's dedicated entertainment, sports, and media practice in China. Prior to making the transition to practicing in China more than 12 years ago, Mr. Goldberg was a federal prosecutor in the United States Attorney's Office, in San Diego, California.
As one of only a handful of true entertainment lawyers currently practicing in China, Mr. Goldberg advises major media companies, Hollywood studios, independent producers, sports leagues, directors, actors and other talent, and financial institutions and investment funds on their activities in the PRC.
Mr. Goldberg's clients have included nearly all of the major Hollywood motion picture studios with respect to projects in China, including studio titles intended for wide international distribution and local productions primarily for the China market. His practice covers film financing, development, talent agreements, production, distribution, foreign direct investment, strategic cooperation and joint ventures, copyright, rights acquisitions, distribution, and other aspects of the media and entertainment industry in China.
In addition to advising foreign companies on their activities in China, a significant portion of Mr. Goldberg's practice is advice to Chinese companies on their outbound entertainment matters, film financing activities, and content acquisitions.
In 2012, Variety magazine named Mr. Goldberg one of "50 Game-Changing Attorneys" in its 2012 Legal Impact Report. The special feature recognizes the world's top entertainment lawyers whose deals and court battles over the past 18 months have changed the shape of the business. Mr. Goldberg has been an invited speaker on entertainment-law related issues at the Harvard Law School, the Harvard Business School, and Peking University.
Mr. Goldberg speaks Mandarin Chinese.