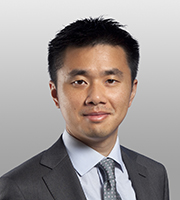 Heng Gong is an associate in the firm's Patent Litigation and Intellectual Property groups and is based in the New York office.
Mr. Gong has advised clients on a variety of intellectual property matters, with a focus on patent and trade secret cases. He has litigated in federal district courts, U.S. International Trade Commission, and the U.S. Patent Trials and Appeals Board.
Mr. Gong has helped clients conduct technical analysis regarding the validity, infringement and enforceability of patents. He has worked with technical experts to analyze clients' patent portfolios, conduct pre-filing investigations, and develop non-infringement and invalidity positions and claim construction positions.
Mr. Gong has worked on litigation matters involving a broad range of technologies, such as wireless communications, human-computer interaction, computer security, acoustic component packaging, and microprocessor design.
Mr. Gong is a native speaker of Chinese Mandarin and has extensive experience working with Chinese and international clients in cross-border intellectual property disputes.