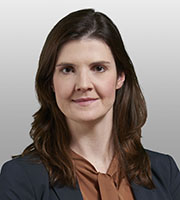 Kate Gibson advises clients on a broad range of international arbitration and trade-related issues, drawing on her experience in the U.S. government and in international and domestic courts.
Ms. Gibson's practice focuses on helping clients solve challenges in doing business abroad. She has counseled clients on matters arising out of U.S. free trade agreements, treaties of the World Trade Organization, as well as a range of bilateral and multilateral investment treaties.
Before joining the firm, Ms. Gibson was a Legal Adviser on the Iran-United States Claims Tribunal in The Hague. In that capacity, she worked on complex and sensitive state-to-state cases in all phases of development, from pre-hearing to award. She also previously served as a trial attorney in the Civil Division of the U.S. Department of Justice, where she represented the United States in federal district courts across the country.