Our Website Uses Cookies
We and the third parties that provide content, functionality, or business services on our website may use cookies to collect information about your browsing activities in order to provide you with more relevant content and promotional materials, on and off the website, and help us understand your interests and improve the website.
For more information, please contact us or consult our Privacy Notice.
Your binder contains too many pages, the maximum is 40.
We are unable to add this page to your binder, please try again later.
This page has been added to your binder.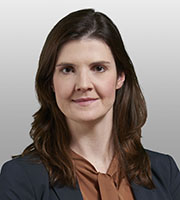 Kate Gibson advises clients on a broad range of international arbitration and trade-related issues, drawing on her experience in the U.S. government and in international and domestic courts.
Ms. Gibson's practice focuses on helping clients solve challenges in doing business abroad. She has counseled clients on matters arising out of U.S. free trade agreements, treaties of the World Trade Organization, as well as a range of bilateral and multilateral investment treaties.
Before joining the firm, Ms. Gibson was a Legal Adviser on the Iran-United States Claims Tribunal in The Hague. In that capacity, she worked on complex and sensitive state-to-state cases in all phases of development, from pre-hearing to award. She also previously served as a trial attorney in the Civil Division of the U.S. Department of Justice, where she represented the United States in federal district courts across the country.
Advise beverage company on trade issues in Latin America, Europe, and the Middle East under U.S. free trade agreements and World Trade Organization treaties.
Counsel film and media company on rights and remedies under the Trans-Pacific Partnership Agreement and the North American Free Trade Agreement.
Advise clients on public international law and investment issues related to the Russia-Ukraine conflict.
Advise clients on the negotiations of the United-States China bilateral investment treaty.
Represent client in post-arbitration proceedings in U.S. court seeking to confirm arbitral award.
Successfully represented mother at two-day trial in divorce matter related to child custody, child support, and alimony.
Memberships and Affiliations
American Society of International Law, Member
Kluwer Arbitration Blog, Assistant Editor for North America
Legal Adviser to the Honorable O. Thomas Johnson, Jr., Iran-United States Claims Tribunal (2012-2014)
Trial Attorney (Honors Program), U.S. Department of Justice, Civil Division, Federal Programs Branch (2010-2012)